The Ethics Of Non-Spiritual Psychic Reading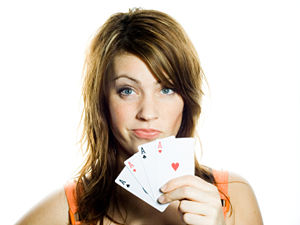 I am a psychic and I love gambling – enough that it's a good thing the nearest casino is 100 miles from home. Playing Blackjack, I can tell when the dealer is going to "bust". I don't play the averages and I can't count cards, I just know.
Poker is just as much fun, but I see the cards differently. In Blackjack I see the playing cards as high or low, in Poker I see the suit of the next card coming up.
There is an online quiz game involving music, in which you must guess who the artist is, or the name of the song. I know music and a lot of the time I know the song well. Other times I can tell who the artist is just by listening to the voice or the style of the artist.
My advice to the unborn is, don't be born with a gambling instinct unless you have a good sense of probabilities ~ Jack Dreyfus
However, I had no clue who Ingrid Michaelson was, yet I was able to guess the sound of the name. I've never heard The Way I Am or Hole In My Soul and though I've heard of My Chemical Romance, I wouldn't know their number one hit from an Offspring dud. But while I'm playing the game, if I just relax I can get the right answer.  It won't happen when I think about it, I have to be relaxed and just let it come.
Can this be considered cheating; is this an ethical dilemma?
I asked another psychic friend what she thought, and her reply was that I'm too hard on myself. And I can see her point.
Let's look at Poker again. When I'm playing in a casino, I know there are players who "play" the players. They read the opponent's body language to decide if they can beat that person, if he or she has a hand. That's an instinctive skill they were either born with, or one they developed with years of practice.
The subject of gambling is all encompassing.  It combines man's natural play instinct with his desire to know about his fate and his future ~ Franz Rosenthal
Is it wrong to use your psychic ability to read the situation, or the person in front of you? I think the answer is it depends. Behind the wheel you want to be aware of everyone and everything, behind a grocery cart, not so much.
I have learned that when I go out there, outside my home, I have to filter everything and be careful not to read just anyone. If not, I must be prepared to see something I didn't want to see. And if I do let my guard down in public, I need to remember to keep my mouth shut, or risk blurting out unwelcome things that others may not want to hear. As far as online games go, I just turn it all off.
I believe that as professional psychics we should hold ourselves to a higher standard. The examples I brought up are minor things. But what about telling a female caller that the guy she wants isn't coming back? There's always a way to tell a client the truth in a way that is thoughtful, non-threatening, and comforting.
About The Author: Indigo

Indigo is an Indigo child, her gifts have been handed down through generations, and she has used them since she was a teenager. Using a unique blend of, tarot, astrology, numerology, psychology and clairvoyance, she is able to give you the most information in the shortest time possible to help you find a way to change your situation. She has been a spiritual advisor in her community for 20 years and continues her education, while fostering the gifts she has handed down to her grand-children. You can get a reading from Indigo at PsychicAccess.com.