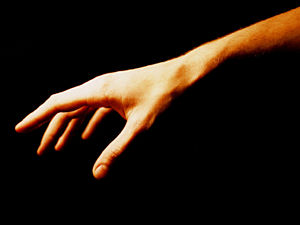 Have you ever hugged someone and immediately became uncomfortable? Have you been introduced to someone new, shook their hand and felt your skin crawl? Have you held an antique and suddenly felt warm, comforted and happy? Any of these signs can be your natural intuition, but it also could be something more.
Psychometry is the process of obtaining extra sensory information or impressions from touching a person or an object. The term psychometry comes from the Greek words psyche (soul) and metron (measure) meaning measuring of the soul. Psychometry is sometimes confused with the field of Psychometrics, which is a technique of psychological measurement that aims to measure and assess human personality traits, abilities, and attitudes.
Everyone's got a heart. Find a way to touch it! ~ Ewen Lewis
Reading the 'soul of an object' can be an exciting psychic ability, also known as clairtangency. These clairtangent impressions can come to us in the form of words, colors, symbols, feelings or images.
Criminologists, police agencies and other law enforcement agencies sometimes call upon psychics with this ability to help solve crimes, locate missing people, or even to help interview people being questioned for criminal activity, such as murder or kidnapping.
Inanimate objects obviously do not have a soul per se, but they do retain the energy of the person or persons who owned it, loved it, or hated it. They hold energy imprints of happiness, sadness, fear, pain and excitement. Some psychics believe that it is not the energy of the object that they have picked up on but the Akashic Records attached to that person or object. What a fascinating proposition that is!
Touch is a freaky thing when you're not used to it. It makes you feel all kinds of things ~ Neal Shusterman
Many psychics with this ability tend to avoid touching, hugging or shaking hands with others. They maintain their personal space out of necessity, as sometimes these energies can be intrusive and exhausting. Most of the time this type of 'psychic touch' reading is used to tell of someone's history, but it can also be used to tell the present emotions and energies of the object's owner, or the person who is being touched.
Having clairtangent abilities can also be the precursor to mediumship and this, as with most psychic ability can be learned, practiced and expanded on. We are all intuitive creatures and with patience, practice, meditation and an ethical mentor our ability can be further developed.
Think about your favorite objects or those you least like; what would they reveal about you?
About The Author: For over 35 years, Tasha has been a Psychic Life Coach and Advisor, using her Clairvoyant, Clairaudient and Stone-Reading abilities to provide detailed information from her guides. This Florida resident has read for rock stars, and is the psychic and spiritual advisor to many well-known musicians. She's even read for family members of a prior U.S. President! If you're ready to have your world rocked, I suggest a reading with Tasha at PsychicAccess.com.