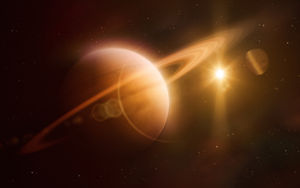 I have been working hard to create a blog post for this month and I have had the hardest time trying to decide what to write.  Writing is usually very natural for me and flows very easily. But now, each time I'd start a topic, I'd go off in a few different directions, with no connection to any of the stories. And then it hit me!  Aha!  We are in the midst of Mercury in retrograde!
For those of you that are unfamiliar with Mercury retrograde, it can wreak quite a bit of havoc on our communication, as well as our electronic devices, our cars malfunctioning, our paychecks not getting direct deposited in time, missing important meetings, travel plans getting disrupted… or even writing a blog. So, back up your computer and your cell phone contacts.  Mercury can sometimes take us on a bumpy ride when things go a little haywire.
When I investigate and when I discover that the forces of the heavens and the planets are within ourselves, then truly I seem to be living among the gods ~ Leon Battista Alberti
So, as I sit here tonight, with my mind in a total scramble, I realize the effect that the planets have on us. There are those of us that do not follow Mercury when it retrogrades, so we just chalk it up to a "bad day". But it is more than likely, if you have a lot of malfunctions with communication, electronics, or with several things mysteriously going awry at once, check your calendar and see if we may be in the midst of Mercury retrograde.
My friends have learned to understand it quite well. At times, they will call me up and say, "Are we in a retrograde?  I just ran into my ex and suddenly they want to talk."  Yes, Mercury retrograde is also notorious for bringing back the ghosts of the past. Sometimes, it is to see if there is a chance at reconciliation and at other times, it is just to close the chapter finally and move on.
Mercury has a way of allowing us to tie up loose ends and taking care of any unfinished business we have. It is an excellent time for soul reflection and checking in on ourselves as a sort of 'catch up' to where we are headed.
It's not a very good time for signing contracts or entering into any form of partnership – both business-related and romantic relationships. I'd advise you to consider holding off a few weeks if you are considering doing anything like that. Mercury rules communication, and you can rest assured that if you sign a contract or agree to anything, something will be missed, and things will not go as smoothly as you may have anticipated.  Same thing for new relationships. So, if you find someone you like in the next few days, don't make any quick decisions until after mercury has finished its 'retro dance'.
Mercury is in retrograde until it turns direct on March 17, but you may still feel its effects into the first week of April.

PsychicAccess.com.


Savannah is a North Carolinian who enjoys a close relationship with Spirit, as does her teenage son and even her dog! A third generation psychic born with the gift of the 4 C's (Clairvoyance, Clairsentience, Clairaudience & Claircognizance), she tunes in through Tarot to contact guides and communicate with Spirit. Savannah is well-versed in many metaphysical disciplines and it is her privilege to help clients to find their destiny. If you're interested in claiming your own destiny, you can find Savannah at
2 Responses to "Whoa, Mercury!"