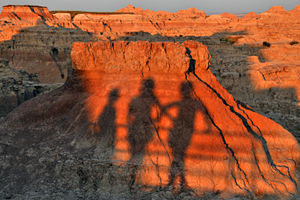 I communicate with the long-dead, noble spirits of the Native Americans, whose sacred spirits reside in the mountains of Arizona. If you have ever seen a silhouette of a face on a mountain side, or heard a whisper of ancient wisdom while deep in the rugged terrain of the high country, you may understand this.
It all started when I moved to Arizona many years ago. The area in which I live is a valley surrounded by mountains. I began to see silhouettes of the faces of Native American chiefs, warriors, princesses, healers, and wise men and women, on the mountain faces and mountain tops wherever I went. It was more than just a strange occurrence; it was a paranormal phenomenon that drew in all my senses.
On many occasions, this paranormal phenomenon pulled me into trance states that could last, at times, for an hour or more. Within months, I started hearing whispers from the mountains. At first, these whispers were, for the most part, indiscernible. But as time passed, I was able to focus on what was being said to me.
The ground on which we stand is sacred ground. It is the blood of our ancestors ~ Chief Plenty Coups (Crow)
My first teaching consisted of the names and designations of the noble spirits. It was such an honor to have this sacred contact. As the spirits became more and more comfortable with me, they felt more secure to impart more knowledge upon me. I learned the importance of the faces appearing in the mountains. I learned about their tribes, their traditions, their lives, and their deaths. The spirits in the mountains became my friends.
In time different mountain ranges in the area revealed information about different tribes. New messages came through imparting fresh wisdom. There is one spirit in particular who resides high in the Superstition Mountains who speaks freely to me about how the world has changed. He watches civilization move forward year by year from his high mountain peak. The words we exchange are unlike any conversation I could ever have with a living being. They are full of insight, wisdom, intelligence, sentience, and prophecy.
I am so very thankful for this gift. The ability to see and speak with the spirits in the mountains has changed my life. It has enhanced my psychic ability more than I can quantify. It has made me a more rational and understanding person. I would like to thank my spirit friends for enriching my life in such innumerable ways.
About The Author: A gifted Empath, Clairvoyant, Claircognizant, and teacher in Arizona, Allison is also an accomplished author writing a work on Chakras and its link to psychic ability, due to be published in June, 2013! Her mastery of crystals and Reiki healing adds another dimension to her strong natural abilities. Her psychic talents and effective techniques have improved the lives of a broad range of clients. She even transforms troubled animals into adoring pets in her spare time as a community volunteer! For a life-changing reading with a gifted Psychic of rare quality, you can find Allison at PsychicAccess.com.