Wishing vs. Expecting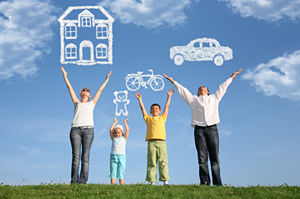 There is a very dramatic difference between wishing for what we need and want out of life, and expecting to get those things. It is like the difference between talking or writing about how wet water is and actually getting into the water to experience how wet it is. The Zen saying goes, "You cannot get wet from the word water" which I discovered when reading the philosophy of Alan Watts and David Suzuki.
A wish is simply a desire for things and events we hope will come true. An expectation is the power of knowing that things will come to pass.
Most of the readings that psychics give to callers and chat room visitors are centered around the wishes that people have to find out what will come, or if a person will receive what they need and want to have happen.  So, I have had years of practical personal and professional experience in coming to my conclusion.
If you have a goal, write it down. If you do not write it down, you do not have a goal – you have a wish ~ Steve Maraboli
I find myself talking with my clients a lot about how much they can make a difference in their own lives, if they would expect things out of life and not just wish for them. After a long and challenging life, I began to notice the difference between people who achieve their own version of success, and good relationships, compared to people who struggle with life year after year, and never quite manifest the love they so much desire.
What is the difference?
People who 'wish' for things to happen get in their own way with anxiety, implied doubts and emotions that over-complicate the process of having an idea, and then sitting and waiting for it to come true, instead of being part of making it come true.  Wishing is about talking or writing about getting wet from water.
People who 'expect' things to happen do not get in their own way with fear, and doubt, and self-sabotage. And this state of mind is not about being aggressive. It is about saying "and so it is". It is about not over-complicating the process of having a notion of what we want, and then moving toward it and helping it happen. It is about getting into the water, getting wet and living in the now!
Today expect something good to happen to you no matter what occurred yesterday. Realize the past no longer holds you captive. It can only continue to hurt you if you hold on to it. Let the past go. A simply abundant world awaits ~ Sarah Breathnach
Wishing is a bit of a dream state that focuses too much on the future that one never quite arrives at. Expecting is about realizing that our hopes and dreams for the future are always unfolding here and now.
The last and most important point to make is that when we are in agreement with our higher self, and our guides and angels (who all 'expect' the best for us) then life unfolds before us in a kind of synthesis and we get a wonderful feeling of accomplishment. When we expect things to happen we become co-creators of our own joy, abundance and love . . . and we do a lot of swimming.
About The Author: Heartlight

Heartlight is an "Empathic Coach" with a lifetime of developing of ESP. With 16 years of working as a Psychic Adviser, (the last 7 years of adding Life, Motivational and Relationship Coaching training into the mix), she maintains a very loyal following at PsychicAccess.com. She goes beyond simply sharing messages about things that are hidden from her clients awareness along with information she receives about their future. Heartlight also coaches her callers to use the messages that come through her empathic gifts for their own highest good by blending kindness, humor and wisdom into her readings. Get a reading today with Heartlight at PsychicAccess.com.