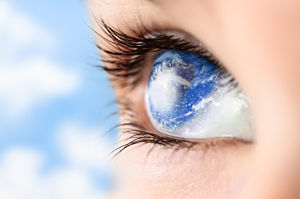 About once a month I get a call and the person asks, "Do I have a gift?" Or they might say, "Am I like you?" This is not an odd question. The reason that I am being asked is not only due to my gifts, but more than likely because they cannot get confirmation from significant others in their life. The amount of bias for any paranormal gifts is totally unnatural, but it exists.
I was lucky that my father was a man of deep faith and also a psychic. He accepted his gifts with a humble heart and did not hide them from me. He was always supportive of what I saw, felt, or simply knew in the unseen world. I said I was lucky, because too many times a child's visions, feelings, and knowing is dismissed as "his or her imagination, and nothing more" when, in fact, it is a whole lot more.
Growth of consciousness does not depend on the might of the intellect but on the conviction of the heart ~ Wayne Gerard Trotman
In a word, it is consciousness that makes a psychic.
Unlike those who need to call me to ask for some confirmation, I was encouraged to talk about what I saw. My father discussed what he saw, when, and what occurred related to his visions. As the years passed I became accepting of my gifts and less afraid to share them with others. I also worked hard to refine them.
A newly affirmed psychic might doubt their abilities. For many of us, it takes years of practice to gain the self-confidence to know that what is being seen, felt, or known, is accurate. It is not easy to put aside logic. No psychic trusts his or her Spirit Guides the first time. Like any other field, the reading of any tools takes time to refine.
Hide not your talents, they for use were made. What's a Sun-dial in the shade? ~ Benjamin Franklin
The hardest part of being a psychic is realizing that sometimes you simply do not want to know. In the same way that announcing an upcoming wedding is exciting, and a funeral is not, there are times when what I have to tell a seeker what they are not happy to hear. The best lesson my father gave me was "always be honest, even if what you see makes no sense at all, just put the vision into words to the best of your abilities."
You may have a gift, or a curse; it is up to you how you think about it, and what you are going to do with the gift. For me, each time the phone rings I am excited for the opportunity of helping someone. I sincerely hope that you feel the same.
About The Author: Jacquie Omi is a Master healer of children and animals who resides in a poor indigenous village in Central Mexico. She is a deeply spiritual practitioner and a well educated research scientist who brings her Eastern thought into Western situations. She has been a nonprofit leader since 1986, the president of an educational project since 1991, an Arizona State Certified Teacher (birth ­ grade 12) and a facilitator of businesses since 1986. To attain inner peace and draw positive healing energy into your life, Jacquie can be found at PsychicAccess.com