As I Lose You…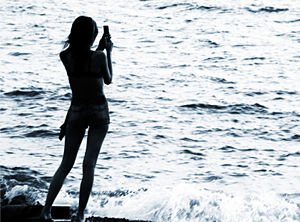 At the end of each call, after each  connection or contact with my client, there is often this point where I can see in the cards what she is thinking about as we disconnect. It sometimes happens when we have communication problems, like a low battery, or a dropped connection.
I feel like there are so many disconnected communications due to the number of people I have been able to help, and many of the stories go unfinished. Many of us phone readers do wonder: What happened to you? Are you okay now? Were we correct? Were we helpful?
I have not only counseled my clients, but I have garnered their ideas and fielded their questions. There are billions of unfinished sentences. Brilliant minds and souls burn only to lose their ideas to the mass consciousness of our ether – the net – the moods of others we now call our own.
When a client calls – and I only get to help a small part of them – and I lose them to my spirit self, knowing full well that to them I appear only in electronic form –  I feel like I have lost another human. Another mind or spirit has slipped away, left only a small tracer, its signal being lost in its sheer intensity. It's like a trail – our last point of exit, an anxious farewell, another lost and dangling spirit that I will never speak to again.
At the last point of the call I will assume their last feeling, hear their last breath as we disconnect – in my body I can feel the  broken line, shattered by the forced silence, an unfinished wave –  yet another unfinished conversation. I have tasted their dreams, heard their innermost fears – felt their feelings, their last and innermost self  and heard their last and final thoughts. And then, they are gone…
Is Empathy perhaps not  a cruel  form of synesthesia? Can I taste their sadness?  Is sadness really blue? And after having had just one taste, I then  have to relinquish each soul, let it go, let it be, and trust it went on its way unhurt and unharmed.
And then with that, that person leaves for good, its vital energy voids itself from my being, and with its taste and imprint gone, and I am left once again waiting for someone else to finish our conversation.
About The Author: Carmen Miro

Carmen's waking dreams have provided accurate glimpses into the future for celebrities as well as political and international figures. Her non-judgmental, Empathic approach, as well as her unique method of Tarot reading, affords her the reputation as a groundbreaker in her field. This European born Canadian is the first online psychic to promote the idea of Empathy and emotional thought transference, and she has written a great deal on the subject. For a comprehensive Intuitive reading that will transform your life, you can find Carmen at PsychicAccess.com.


One Response to As I Lose You…