Dialogues With My Tarot Cards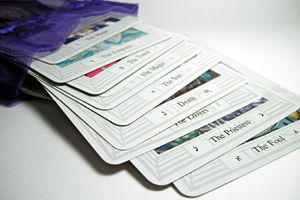 As a visual artist I have always been fascinated by the imagery on traditional Tarot cards. My first Rider-Waite Tarot deck felt so solid – 78 cards in a one-inch stack. They were thin, but sturdy and smooth so it was easy to shuffle them. Over time a Tarot deck picks up energy and can grow in thickness to two inches or more.
The Tarot consists of the Major Arcana and Minor Arcana. The word "arcana" means secrets and mysteries, and every aspect of the human condition is symbolically embedded in the cards.
The earliest appearance of the cards arguably occurred in the 14th Century as playing cards. The symbolism had to be kept secret, because doctrines outside of church law were prohibited.
From the first time I used them my intuition immediately pinged on different energies when I looked at each one of the cards: optimism, excitement, balance. It was a spontaneous, deep spiritual energy coming from my core to consciousness. I used this method of relating to the cards long before I bought any guidebooks.
Divination is the quest to understand more about the past, present, and future. In other words, Tarot readings are an attempt to understand ourselves better and discover how we might live better in the future ~ Theresa Francis-Cheung
I carry my cards with me all the time. While driving one day, I came to an intersection and couldn't remember whether to turn right, or left to reach my destination. So, I took out my cards and drew one, and I was shown the correct way to go.
"Alright," I said to myself, "I'll go for it." I didn't take this too seriously at first, but soon realized that I could ask anything and the cards would answer. They'd even talk back to me. For example, if I was asking questions that were too obsessive, I'd get the card of the Devil. If I already knew all there was to know, the High Priestess would pop up.
In addition to developing my personal spiritually, I started using the cards for guidance when making important decisions in my life such as  considering potential employers, buying a house, choosing a doctor, comparing options, and so on. It is however very important to approach such readings with a clear and optimistic mind.
To this day I still carry my cards with me. I have built an extensive collection of Tarot cards and Oracle cards. When I do readings I sometimes use more than one deck at a time for complex issues.
About The Author: Dianna

As a conduit to Spirit since birth Dianna provides channeled information from her Guides, Archangels, Ascended Masters & Animal Spirits. During readings, information comes to her through telepathy, empathy, visual images and physical sensations. She additionally uses Automatic Writing for very specific details and timing, Tarot and the Lenormand Cards. Dianna's specialties are providing you with remarkably accurate answers to your questions using her psychic consciousness to assist you in reaching new and rewarding goals. A Libra/Aquarius rising with three grand trines in her chart, Dianna has chosen to use her psychic gifts and Reiki Healing Energy to help others, providing practical answers to life's questions plus healing and clearing blockages. You can get a psychic reading from Dianna at
PsychicAccess.com.