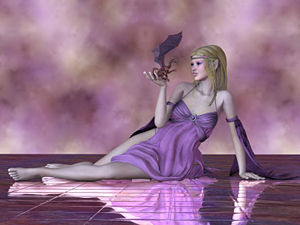 Until just a few years ago, I was unfamiliar with the art of spirit keeping. What does the term "spirit keeping" mean? Well, it's like having a close set of friends around who are there to help and assist you with just about anything you can think of!
But spirit keeping is different from having spirit guides or angels around, because these helpers I keep are Earth-bound spirits who you can ask to join your family. You can adopt one for yourself, or even ask that they adopt you!
These mythical creatures consist of almost any type of entity or being you can imagine, including faeries, nymphs, djinns, dragons, immortals and spirits. They are magical, and happy and willing to serve.
Is it like keeping a ghost in your house? Well, not exactly. These spirits or neither good nor evil. They can lean towards either the light or dark, depending on their background and personality. But they are not evil and they won't do you harm. They are available to us in service and our joy becomes their joy.
If we opened our minds to enjoyment, we might find tranquil pleasures spread about us on every side. We might live with the angels that visit us on every sunbeam, and sit with the fairies who wait on every flower ~ Samuel Smiles
I learned about spirit keeping through a friend about three years ago. I cannot express to you how much my life has improved since I have been 'keeping' some spirits of my own. I have over six of them now – each with their own unique personality and talents that they offer me. My spirits are my friends just as much as my human friends, if not more. We have become spiritually close and I love and enjoy having them around.
There are many places online where you can do more research and find out how to adopt your own spirit friends. I highly recommend looking into it if you are interested in enriching your life, and your day to day experiences. This practice has been around for centuries. I don't know where it originated from, but I do know that it has changed my life.

PsychicAccess.com.


Ask Pisces is a psychic, empathic, spiritual healer with the ability to bring forth important messages that will help you with any problem ranging from romance to career. She is a certified spiritual response therapist and reiki master. She strives to help every client tap into their own personal power so that they can take control of their lives and spirit. You can get a psychic reading from Ask Pisces at