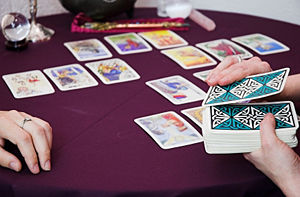 I am confident in my ability to interpret the messages for clients I am doing psychic readings for. But there are times when a reading goes a little pear-shaped, and I get stuck or confused. This usually happens because I am either misinterpreting what I'm receiving, or the client isn't confirming what it is I am giving them.
Clients sometimes find it difficult to confirm some of the information that comes through during a reading because they forgot something or someone from their past. This phenomenon is known as 'Psychic Amnesia'. Some clients may not have memory problems, but they are blocked, and not being open and truthful with their reader.
For example, Spirit may show me a certain date that is significant, or maybe show me the clients favorite flowers, or something like that. This is often an attempt to affirm that they are indeed communicating with Spirit, usually with whomever they wanted to talk to in the first place.
The void created by the failure to communicate is soon filled with poison, drivel and misrepresentation ~ C. Northcote Parkinson
When this inability or unwillingness to confirm information happens, it can be very challenging for the reader to move forward with the reading. It usually becomes more and more confusing for the reader, until the client can confirm what spirit is trying to say.
No psychic reading is 100% accurate. Psychics are only human. Furthermore, we all have free will and one decision can alter then outcome of your reading.
Here are some tips to getting the most accurate reading.
1. Choose a psychic you either have a good connection with, or are comfortable with.
2. Write your questions down before your reading. Be as specific as possible, just in case you forget later.
3. Be sure to clear your mind and focus all of your energy on the questions you are asking.
4. Have a notebook handy to write down the details your reader gives you. Just because it's not clear to you now, it's still Spirit information and will usually make sense to you later.
5. Most importantly be as open and honest with your reader as possible. If your reader is asking you to confirm something, answer as openly as possible, because it's usually because they are trying to interpret messages as clearly as they can.
If you apply these tips, I promise you will get a more accurate and satisfying reading.
About The Author: Aaron is an international psychic advisor, clairvoyant seer, and psychic healer based in The United States. Aaron has worked for over 10 years as a professional psychic and has given over ten thousand readings in that time. He is also a singer, song writer,musician and is currently playing with the band 'Urban Bleu', which he co-founded in march of 2007. You can get a psychic reading from Aaron at PychicAccess.com