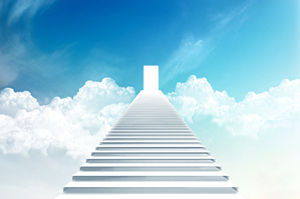 Death is a transformation period of the soul. When you take off the coat of your physical body you will put on a new coat which is your spirit body. The spirit body is the vessel though which we continue to have experiences and learn in the afterlife.
The spiritual planes in the afterlife are a ladder of consciousness that you can climb as you reach higher states of spiritual awareness. The plane in which you are in the spirit world will depend on your level of spiritual development.
The astral plane is a place where you can view all of your past life lessons. It is also a plane for healing.
The causal plane is where you can connect to the wisdom of your soul, to know your true purpose.
Our birth is but a sleep and a forgetting; The Soul that rises with us, our life's Star, Hath had elsewhere its setting. And cometh from afar ~ William Wordsworth
The mental plane is where you will learn new ideas from your spiritual master teacher.
The akashic plane is where you learn the lessons of your soul to advance into the higher spiritual planes.
The etheric plane is that higher body of consciousness where you meet higher spiritual beings, such as your ascended master teachers, angels and the Christ Consciousness.
Throughout your spiritual journey in the afterlife you will know the true pathway to connect you to those higher states of consciousness, so that you can advance in the afterlife.
About The Author: As a child, Shelley's "feline whispering" translated to other animals, as well, and she has helped countless clients communicate with their beloved pets. She's saved many animals through her tireless devotion to rescue groups and has offered psychic counseling in-person and through her pet psychic column. Her incredible Mediumship abilities with people and pets have caught the notice of mainstream media and she has appeared as a featured guest on NBC, the Discovery Channel, several prominent newspapers, and on radio as a host of her own Psychic Horizon radio show! This Southern California psychic and Medium is also a paranormal group investigator, metaphysical writer, lecturer and psychic fair organizer who has been listed in The Street Smart Psychic Guide as one of the best pet psychics around. For a reading with this remarkable person and pet whisperer, pop on over to PsychicAccess.com