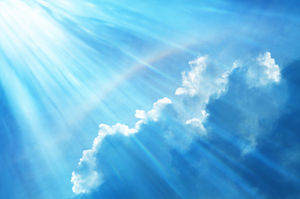 Returning to the demands of modern life after the holiday season can be an especially stressful time for many, and in the hustle and bustle it is easy to forget your connection to Source. Below is a quick fix that will keep your connection strong and keep you grounded and refreshed as your venture into the new year.
In the etheric realms there exists healing temples available for your use. You can go with the intent of learning something new, or for healing your physical body or other problems that may perplex you, or simply for some rest and rejuvenation.
Whatever your intent, you can rest assured that your guides and the attendants at the healing temples will take good care of you and work on the presenting symptoms or issues in ways that align with your highest good.
Good for the body is the work of the body, good for the soul the work of the soul, and good for either the work of the other ~ Henry David Thoreau
So how do you take advantage of this etheric luxury?  It's simple. Before going to bed each night, ask your guides to take you to the healing temples. You can state whether you'd like to work on a specific issue or problem, or just receive some rest and rejuvenation. Your guides will know exactly what to do and will take good care of your etheric body, delivering it back safely in the morning.
A word of caution though – if you're working on a presenting problem and it seems to get worse after going to the healing temple, or you wake up perplexed by it, fear not, it is actually a sign that it is getting better, because it is being unearthed.
Just as you wouldn't go to one therapy session and expect an issue to clear completely, the same is true of the healing temples. Continue to request this of your guides and within a relatively short time you will begin to feel relief from the issue at hand.

PsychicAccess.com


Megan supports people as they make positive, life-affirming change. Using her holistic toolbox of Yoga, Reiki and Readings, she'll provide you with the catalyst and skills needed to maintain the changes you make, long beyond your work together. A lifelong clairvoyant, clairsentient and student of the Mystic, she began her private practice after the miraculous healing and reawakening she experienced working with the modalities she now lovingly refers to as her Toolbox. Megan is an Angel Therapy Practitioner©, a Reiki Master, Atlantean Healing Master® and a certified Yoga instructor. Get a reading with Megan at