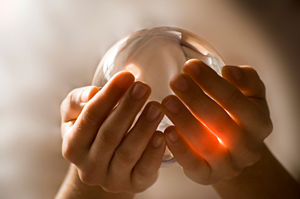 Throughout the ages psychics have been the gatekeepers of the mysteries that are revealed through the anicient practices of divination.
Divination is the self-realization of your own intuitive process. Intuition is the seed that is planted deep within the soil of your psychic consciousness. When the seed of intuition takes root in your consciousness, through the process of divination practice you will begin to experience the psychic realm.
The psychic world is a mystical place where you can explore deeper knowledge and wisdom that is revealed though the practice of divination. Divination is the key through which psychics connect with their own intuitive potentials, to have an awareness of the language of symbolism that is within our consciousness.
Divination is the quest to understand more about the past, present, and future. In other words, Tarot readings are an attempt to understand ourselves better and discover how we might live better in the future ~ Theresa Francis-Cheung
When you connect to your consciousness, you will become the psychic vessel through which the language of symbolism is channeled. It is though the power of your intuition that divination tools work on a subconscious level to bring psychic wisdom into the physical plane of manifestation. This is how future events are predicted.
Intuitive insight can come through many divination tools. Messages can come from spirit, or angels, the lines on your hands, the energy systems of the aura and chakras, and a variety of tools, such as the tarot cards, runes, tea leaves and the crystal ball.
About The Author: As a child, Shelley's "feline whispering" translated to other animals, as well, and she has helped countless clients communicate with their beloved pets. She's saved many animals through her tireless devotion to rescue groups and has offered psychic counseling in-person and through her pet psychic column. Her incredible Mediumship abilities with people and pets have caught the notice of mainstream media and she has appeared as a featured guest on NBC, the Discovery Channel, several prominent newspapers, and on radio as a host of her own Psychic Horizon radio show! This Southern California psychic and Medium is also a paranormal group investigator, metaphysical writer, lecturer and psychic fair organizer who has been listed in The Street Smart Psychic Guide as one of the best pet psychics around. For a reading with this remarkable person and pet whisperer, pop on over to PsychicAccess.com