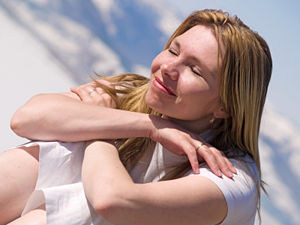 Have you ever been in a situation where you're stuck for answers, but found it really hard to do the right thing? I experience that also from time to time. Those are often the moments when that voice inside speaks up and tries to make itself heard. That inner voice or intuition is something that we all share, and if we learn to listen, it can guide us in our choices.
The occasions when I heard my inner voice and chose to ignore it always proved that I should have listened, and since then I've tried to connect with my inner guidance more deeply, and to really listen to what it tries to tell me. Emotions can run high or be strong, and this is more often than not the reason why we, myself included, tend to ignore what our intuition tells us.
Every time you don't follow your inner guidance, you feel a loss of energy, loss of power, a sense of spiritual sadness ~ Shakti Gawain
The 'right thing' can be some of the most difficult choices we make in our lives, but those painful and difficult moments are often doorways to greater things and positive changes. We all have free will and the beautiful thing about it is that we all shape our destinies and futures as we go. Those around us may tell us their thoughts on a situation, but ultimately we decide for ourselves and this is where trusting our intuition becomes so important.
If you're searching for answers, the first place to look is within because it's already there. Sometimes facing or understanding what we're told is a little trickier, but confirmation is never too far away. Speaking to a psychic can further help show all sides to a situation and support you in the decision making process, but never underestimate the power of your own intuition and your own ability to create positive change in your life.
About The Author: Allanah is a South African treasure, living in a majestic place called the Boland, surrounded by mountains, vineyards and orchards. She's a phenomenal Tarot reader, who incorporates her natural claircognizant and clairsentient abilities to tackle any issue. She also studies crystal and Reiki healing, and makes her own natural homemade cosmetics and skincare products. With the added help of her personal guide, Allanah will assist you to make the right choices in your particular situation and help guide you onto a path that will lead to greater joy and love. With thousands of clients singing her praises, she welcomes everyone, from all walks of life. You can find Allanah at PsychicAccess.com.