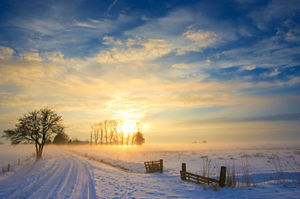 The Winter Solstice in the Northern Hemisphere marks the shortest day and longest night of the year, but it is never a time for despair. In the point of greatest darkness lies the spark of rebirth.
Many cultures mark the longest night in a sacred way, for they understand that from this point forward, the Sun's light once again begins to grow.
The Winter Solstice is a time for gathering in a settling into our inner selves for the long winter. It is an excellent time for reflection and practicing being in stillness. We can undertake rituals and meditations to honor the sacred quality of the cosmic darkness which carries all the energies of life, light, and magical potential.
If we had no winter, the spring would not be so pleasant; if we did not sometimes taste of adversity, prosperity would not be so welcome ~ Anne Bradstreet
Create a Winter Solstice altar and decorate it with evergreen boughs, red fruits and berries like holly or pomegranate, and a cauldron full of mulled wine, or fruit juice mixed with herbs for the Gods.
At dusk on the solstice, extinguish all lights and let yourself sit in the sacred darkness. You may wish to sing or chant honoring the sacred life energies which are present in the darkness. When you have concluded your work and feel the presence of spirit, light a white or gold candle and feel yourself transformed.
About The Author: Olivia was born with natural abilities to hear, see and feel messages from the other side, gifts that were discovered by communicating with the dead in her family's funeral parlor! She's quite well-known and respected by colleagues and clients in her Nashville, TN community and has read for many famous musicians. An accomplished lady, she holds a Masters Degree in Clinical Psychology and an Associates Degree in Metaphysical Sciences and Paranormal Studies. If you'd like to receive accurate and detailed answers from beyond the veil, you can contact Olivia at PsychicAccess.com.


2 Responses to "Celebrating The Winter Solstice On December 21st"