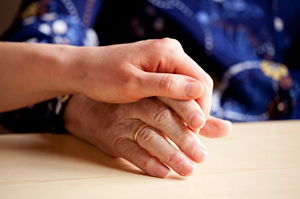 My journey towards healing has finally begun. It is a beautiful thing when we can finally let go of our fear, pain and guilt, and enter a much brighter and loving place – a place where we can feel at peace. This is my story of the struggle that has been my personal life and emotional hell during the past 10 months. It is also a testament to anyone who has suffered a loss and can't seem to get past it. Healing can come from anywhere, at any second so never give up or stop believing.
At the end of the street is a large duplex remodeled into a private nursing home facility. The interior walls are painted in warm soothing colors and you can see the owners care and concern with decorating the rooms, to be as homely as possible. The residents who live here have all been allowed to bring things from their homes to help them feel more at ease. The place has the appearance of comfort, but the sterile tile floors criss-crossed with rubber walking runners. The strong smell of Lysol and bleach gives away the true meaning of this building.
I still miss those I loved who are no longer with me but I find I am grateful for having loved them. The gratitude has finally conquered the loss ~ Rita Mae Brown
The outer grounds are landscaped beautifully with a large water fountain set in the center of the circular driveway and the park like setting is dotted with greenery and wooden benches. During the warm parts of the day, you will see the residents outside walking around, the women dressed mostly in house coats and the men in pajamas and robes. Some will be chatting, while sitting on the benches, while others are reading or napping in the shade.
The nurse's aides who work there are kind and quiet and I have come to know them all, as well as the residents whom I read to or visit with. They have told me stories of their lives, both beautiful and tragic, and I have learned so many lessons about love and forgiveness and the end of life on earth. I saw many residents come and go over the past few years, some to other facilities for special needs and some have passed on. I always enjoyed my time volunteering here and used to go once or twice a week.
So often these past months, I have walked by this home without even noticing it was there. Deep in thought, or just trying to clear my head, I pass by without a glance. I walk this same route around my neighborhood almost daily. The past months have been difficult ones for me. My mother passed on in February this year, my brother in September, and my best friend since grade school just four weeks before this writing.
I have not 'heard' from any of them. I am clairaudient and clairvoyant. I am normally able to hear Spirit and have able to sense and see things beyond the range of the five human senses. But where are my loved ones? What has happened? Why have they not contacted me from the other side in any way? I needed to know that they were okay! I needed to know that they weren't scared during their transition. I just needed to know.
My parents lived across the country from where I live. I talked to my mother often and the week before she died, she called and we had a very personal conversation. She spoke of many things and looking back on that, our last conversation, I believe she knew her time was near. I was unable to get to her bedside in time, before she transitioned to Spirit. I felt very guilty about this. My father was there, but he suffers from advanced Alzheimer's disease and I am unsure if he understands that she is gone.
Grief can't be shared. Everyone carries it alone, his own burden, his own way ~ Anne Morrow Lindbergh
Still trying to recover from this loss, my brother notified me that his cancer had returned and that he would not be continuing with any treatment. I was heartbroken. I wanted him to fight, to stay here and not give in to the illness. Of course, this was selfish of me, because in his case the treatment rendered him unable to eat, sleep or have any quality of life. His 'cure' was worse than the disease itself. I helped to move him into a hospice close to me and spent the last three weeks of his life here on earth talking and caring for him. I received the call that he was fading fast and made every attempt to get to him, but like my mother, I was not there at the moment of his passing. My guilt grew.
Then, without warning, I received a call from the daughter of my very best friend. "Mom is dead," she screamed into the phone. "My dad killed her," she cried. I will never forget the pain and terror in this child's voice. The next few days were a blur; my closest friend and confidante gone in a murder-suicide. The two children are now alone in the world, without their mother or father. It must have been a horrifying night of violence as they were held captive, and heard their father brutally murder their mother, before killing himself. I was in shock. My husband immediately took over and did what needed to be done. He spoke with police, handled the children and made all the arrangements to get her family here as quickly as possible. It was and still is a living nightmare.
Day by day I prayed. I meditated. I did what I could. I could not understand why I had not heard from any of my loved ones, for I am a psychic medium. No dreams. No whispers. No messages from my guides or from any of them.
I was in so much emotional pain, so I walked, a lot. I took the same route, day after day. I needed to do something, but had no clue what. One day, while strolling past the nursing home, I heard my Guide say to go inside. I really did not want to. I thought quickly of a million excuses, but I listened and reluctantly went inside to read to some of the residents, as I used to do so often, but had neglected for a long time.
An important way to cope with grief is having an outlet, be it interpersonal, be it artistic, that will allow you to not have to contain your grief, but will give you an opportunity to express it, to externalize it to some degree ~ R. Benyamin Cirlin
While waiting for the group I read to, I stopped to visit Anna. Anna, like my father, is in the advanced stages of dementia. She has very few lucid moments and lives in her childhood memories, calling me everything from "mother" to names of her siblings and schoolmates. I went into her room to sit with her for a moment when she grabbed my hand and asked me if I was there to take her to school. I replied that I was just there to visit and she said she wanted to tell me a secret.
I sat down next to her and she was still holding my hand. "They were not alone," she whispered. I looked at her and asked, "Who wasn't alone?  "Your people," she said. "Folks were there to meet them when they died. They weren't afraid. Go on now," she said, squeezing my hand. I felt a chill run down my spine. "When the time is right you'll hear, now go on and live your life, others need you," she said and then she fell silent.
I tried asking her questions, but she slipped back into her childhood memories. I had finally received the message I needed, from the most unexpected source. I felt at peace for the first time in months!
I am grateful to Spirit who spoke to me through Anna. I was drawn and guided to the nursing home that day to hear this message from a human angel.  I also realize that many times we look for answers when we want them, but I have discovered that answers come when Spirit decides we need them. Healing after loss can begin when we least expect it.
About The Author: For over 35 years, Tasha has been a Psychic Life Coach and Advisor, using her Clairvoyant, Clairaudient and Stone-Reading abilities to provide detailed information from her guides. This Florida resident has read for rock stars, and is the psychic and spiritual advisor to many well-known musicians. She's even read for family members of a prior U.S. President! If you're ready to have your world rocked, I suggest a reading with Tasha at PsychicAccess.com.