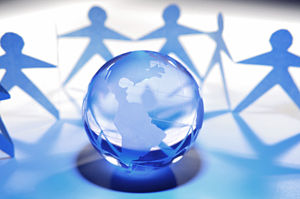 The energies of late have had me asking Spirit a lot of questions. Why has the energy been so erratic? Why one day is it so heavy and the next so light? Why do I have such motivation one minute and absolutely none the next?
Spirit has guided me into understanding that at this time things are changing. The changes at hand are creating more of a contrast. This is partly so that we can become more aware of ourselves and awake to the polarity. In understanding life we must embrace the contrast of light and dark, good and evil, happy and sad, knowing they each originate with God or Source.
So much of our lives are eaten away by distractions and busy schedules. Many people are so busy they don't even know what they feel, think or want. As these energies bring about a more conscious awareness of the contrast we begin to connect at a deeper level with ourselves and each other.
Wholeness is not achieved by cutting off a portion of one's being, but by integration of the contraries ~ Carl Gustav Jung
Sometimes things have to magnify before we pay attention to them. It would seem this way in politics and reform. Many people don't pay attention to what is happening until it affects them. The food crisis, housing crisis and now healthcare are all things we pay little attention to until it affects us. For many years we've had a wonderful time enjoying plentiful days, now it's getting harder to simply 'make it'.
We are in a time of great contrast. In recognizing the polarity and contrast in our world and lives, we are awakening to our own internal desires. As we see what is lacking we can then be more creative in manifesting our desires.
We are also beginning to become aware of the connectedness of us all. The Oneness that affects all of us is important to understand. If one suffers, eventually we all suffer. If one succeeds, eventually we all succeed. As we see the contrast becoming more obvious, we will find new ways of relating to ourselves, each other and the Earth.
Our focus is changing as a species. We are looking for ways to benefit the whole of society, not just ourselves. So as you continue to note the contrast, know it is there for you to shift your perspective. Find new ways of doing things, seeing things, and experiencing things. Then find ways to balance yourself knowing that all is coming into balance. As we recognize the extreme contrast we can also see that things are trying to balance themselves. We can help that process just in recognizing they are both good for us.
About The Author: Bernadette is an accomplished writer/blogger, TV and Radio host, using her divine psychic abilities and tools to guide others on their life's path. An Advanced Practitioner in the use of EFT, QXCI, and EMF, this Colorado resident is also a hypnotherapist, a successful Life Coach, and a spiritual inspiration to others. If you'd like to be happier, healthier, and more fulfilled in your everyday life, you can find Bernadette at PsychicAccess.com.