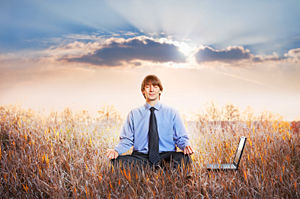 Do you tend to feel anxious, nervous and impatient during the holiday season? Are family functions and the mall enough to drive you mad? Do you find yourself leaving events early, or worse, not going at all because of they just feel overwhelming?
If this sounds at all familiar to you, chances are you are picking up on the energy of the season and may benefit from some additional psychic protection at this time.
The holidays are a stressful time of year for anyone, but for sensitive people it can be even worse. Emotions run rampant and there is a heightened sense of worry and fear around money and ideas of lack. For the sensitive person this is just a recipe for confusion, as you pick up on the energy and emotions of others and become overwhelmed, unable to distinguish what is yours, and what isn't.
Stress is the trash of modern life — we all generate it but if you don't dispose of it properly, it will pile up and overtake your life. ~ Terri Guillemets
But this holiday season can be different – dramatically different if you follow these five quick tips to improve your psychic and emotional boundaries:
1. Before going out ask Archangel Michael to put a filter of golden light around you. This will allow you to still feel the energy around you, but not take it on. This differs slightly from the popular 'bubble of white light' method, as it allows clairsentient people (sensitives who get their psychic information through their feelings) to still be aware of the energy around them. I have found that many of my clients prefer this golden light protection method, because they still feel like they can connect to the world and less like they are insulated in a bubble.
2. If you are in a crowd or at a family gathering or party and are beginning to feel overwhelmed, excuse yourself and go to the restroom. Once there, run the water. Water is closely related to the emotional body and by allowing the water to run you are allowing your emotional body to release and flow. While you are doing this take deep belly breaths and call on Archangel Michael to re-energize the golden filter around you.
3. Call on Archangel Gabriel to assist with any difficult communication, especially around long held beliefs and roles in family situations. She will assist you in speaking and receiving with love.
4. When you feel triggered and irritable be sure to ask if the energy or emotion is yours. If it is not, ask who it belongs to and then send it back to them with love and consciousness attached. This will help them process their own 'stuff' with grace and ease and you will feel much lighter as well.
5. Discharge your energy every night. Before going to bed, run the water again and visualize all the energy and interactions from the day draining from your energetic and emotional bodies.  Alternately you can ask Archangel Michael to vacuum your energetic and emotional bodies as you fall asleep each night.  If the day has been particularly challenging ask to be taken to a healing temple in your sleep, so that you can wake in the morning refreshed and ready to go.
With these simple tips you will effortlessly improve your psychic and emotional boundaries and shift your experience of the holidays. Have a safe and happy holiday season!

PsychicAccess.com


Megan supports people as they make positive, life-affirming change. Using her holistic toolbox of Yoga, Reiki and Readings, she'll provide you with the catalyst and skills needed to maintain the changes you make, long beyond your work together. A lifelong clairvoyant, clairsentient and student of the Mystic, she began her private practice after the miraculous healing and reawakening she experienced working with the modalities she now lovingly refers to as her Toolbox. Megan is an Angel Therapy Practitioner©, a Reiki Master, Atlantean Healing Master® and a certified Yoga instructor. Get a reading with Megan at