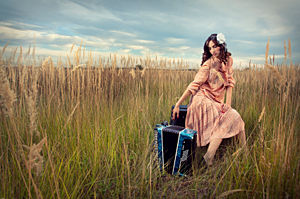 Anyone who is fairly emotional will know that tears are never too far from the surface, yet in our modern society expression of emotion is frowned upon and we are made to feel ashamed of our tears. I'm as guilty as anyone when it comes to holding emotion in, but Spirit has its ways of helping us find release even when we struggle against it.
The last few weeks have been extremely stressful and trying, for a number of reasons, and even though I nearly always felt on the verge of tears, I couldn't give myself permission to cry. Recent events have led to time away from home and work, and this is when an outlet found me. I was sitting outside one evening, chatting with my partner about the musical instruments I used to play, and we touched on the topic of the piano accordion. This is when I felt the urge to go looking for it, to see if I still had the ability to play it.
Dads are most ordinary men turned by love into heroes, adventurers, story-tellers, singers of songs ~ Pam Brown
I learned to play the piano accordion when I was very young, about eight or nine years of age. My father learned to play around that time and taught me as well. He bought me a smaller version of the accordion he used and we would often play together. As I grew older, I spent less and less time playing it and chose to focus on other instruments. By the time my father passed, he was the only one playing those accordions and so they were left with my Mother.
I gave her a quick call and took both accordions out of storage. Just handling the cases already made me teary, but I fought it all the way. Taking the instruments out and airing them immediately reminded me of my dad. Just the smell of the accordions brought back those memories of us playing together. The fact that he had the leather straps replaced on my old one really touched me, because I knew that was the one he played most towards the end. He suffered from arthritis and his hands and wrists were affected as well. The smaller accordion with the looser wrist strap was a little easier to play.
I sat down with it and my fingers slowly found their way across the keys, but that was when the proverbial 'dam wall' broke for me. I sat there crying my heart out for I don't know how long. Those tears came from a sadness deep down inside, and I think in the end, I cried for everything that had worn me down. Once the tears subsided, I was amazed at just how much of it there was. I don't think I've cried like that in years, but it was healing in itself.
Music expresses that which cannot be said and on which it is impossible to be silent ~ Victor Hugo
After that I was able to sit down and start practicing again. I started with one of my favorite songs but after that I ran out of ideas. It was then that I heard my Dad's voice mentioning a waltz that we used to play together. I hadn't thought of that song in years, but the tune came to me immediately and after one or two tries, I was able to play it without a hitch.
I've since practiced daily, even if it's just half an hour. I've never really lost the ability, and now that I'm back in practice I'm enjoying it even more than I thought I would. The piano accordion has become more than just an instrument to me, it's become a way to relive fond memories and to connect with my Dad and his music. When I'm playing, I feel closer to him and I find a lot of comfort in that. I know that he's happy to see me play it again, and that someone appreciates the instruments.
If I'm lucky, I'll be able to teach my son and he might be able to teach his children one day. This is one way for him to connect with the Granddad he never had the opportunity to know and love.
About The Author: Allanah is a South African treasure, living in a majestic place called the Boland, surrounded by mountains, vineyards and orchards. She's a phenomenal Tarot reader, who incorporates her natural claircognizant and clairsentient abilities to tackle any issue. She also studies crystal and Reiki healing, and makes her own natural homemade cosmetics and skincare products. With the added help of her personal guide, Allanah will assist you to make the right choices in your particular situation and help guide you onto a path that will lead to greater joy and love. With thousands of clients singing her praises, she welcomes everyone, from all walks of life. You can find Allanah at PsychicAccess.com.