Cyber-Sentience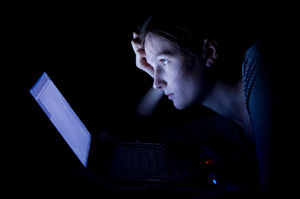 As many of you have, like me, spent countless hours on the Net and having tracked and traversed it for many years you may begin  to perfect a particular instinct that I will coin as 'Cyber-Psychic-ism' or the particular gift of 'Digital Sentience'. Best explained it is a way of intelligently divining through the murky matter of advertising and marketing on the net, avoiding obvious pitfalls or being able to 'read between the ciphers'.
Like all psychic gifts it can work for and against you. It is difficult to perfect as it can change as the publisher or ideas are always changing. I find myself being able to 'see' certain text or 'zero in' on articles, websites and even paper text with much more ease. What would have been perhaps seen in the older days as 'stichomancy' or a type of 'text divination' has taken the back seat to economy and other interests, meaning that our journeys online are not always by chance and happenstance.
Having come across sites that will wave at you  to you to walk in – frequent redirection by advertisers can confuse and torture the psychic soul. Even though economy and trade has a good place online, I would prefer quality over suggestion and often find I have to bypass mischievous paid bloggers and interest groups and fake web pages to simply find a movie or music on a reliable site, which when I have finally affirmed that indeed I did have better taste than my search engine. After a hard one fight,  I would purchase the item of interest, but usually after much strain.
Even discerning tastes can get 'lured' into cyber vortexes. The principle rests that face reading is valuable – and extremely revealing. The next step is discern if it is actually their picture. Another factor is icons. Icons can assume their own emotional quality to me. Text can as well. The problem is, and I would advise you to be aware of the 'sheer volume' of psychic noise out there.
To improve my skills, I do the following. I have limited input such as music to two hours a day. For someone that used to work and write for the music industry, this has been quite difficult to do. Next, if you are a movie aficionado like me, you may find it challenging to limit your movies to three a week. This is very bare bones for someone like me. Admittedly, the next best thing would be to make your own music and movies, and always be aware of excessive input. At the gym today two TV's and the radio were on – at once. You will then walk into a store and get the same treatment, and by the time you have completed your shopping your may find yourself more irritable. If you are in a noisy area, you unfortunately may be left with the limits of  your own personal music collection, albeit better than being at mercy to poor playlists ( if you are like me, keeping your own favorites playing over top the commercial noise ) – but that means I constantly have to top up my music lists and repertoires and keep listening.
I believe that if you can narrow your digital input to five hours of essential e-mail time or work per day, one to two hours of music and perhaps one hour of TV you will be on low end of digital input, which I know sounds still excessive. Yet if you think about it, many people I know have the TV on all the time, or are constantly networking and listening to music. I then am not surprised by some of the online misunderstandings I come across.
This would mean reducing the type of input you get, as opposed to blocking out all unavoidable input. For example: Watch Movies over TV. Watch news and actuality over plain TV. Listen to your own music over the radio. This is to calm you into a rhythm of not always expecting new input. Even if you are falling asleep as you are listening to your artist over and over, you will eventually calm down and really start listening. And finally think of creating possibly your own music or movies. If its sound you need, that does help. I have considered wearing earplugs going out shopping, but I keep my noise cancelling ear muff headphones on ( even without music ) to dampen the incoming sounds.
Sometimes it's a sigh of relief if I can get back from an excursion without a headache or more aggravation. It's wonderful to really 'hear' the birds. I now listen to people's conversations, which have gotten louder than before, because well, no one really listens.
I have even walked out of stores due to the overload – something I am more aware of now, and never was before. I imagine I was sleepwalking into 'disco-stores' and walking out with less, due to the music, but coming home indescribably irritated and less sensitive to online waves, comments, suggestions or red flags.
About The Author: Carmen Miro

Carmen's waking dreams have provided accurate glimpses into the future for celebrities as well as political and international figures. Her non-judgmental, Empathic approach, as well as her unique method of Tarot reading, affords her the reputation as a groundbreaker in her field. This European born Canadian is the first online psychic to promote the idea of Empathy and emotional thought transference, and she has written a great deal on the subject. For a comprehensive Intuitive reading that will transform your life, you can find Carmen at PsychicAccess.com.