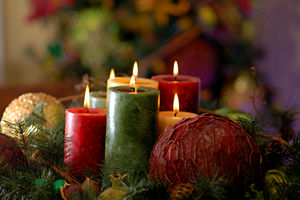 Both fireplaces and candlelight illuminate our holiday season. Both are also a part of both Pagan and Christian tradition at this time of the year.
Fire, in any form, is cleansing and traditionally utilized to get rid of past hurts, and mark new beginnings.
A red candle represents positive energy and passion. A green candle is more symbolic of harmony and peace. Also, a good candle to burn to purify and draw good fortune is a bayberry-scented candle. They are an excellent choice for holiday magic!
Another Pagan tradition widely accepted as a Christmas tradition is the burning of the Yule log. Originally burnt on the eve of the winter solstice, it honored the return of the Sun. 
Inside, the fireplace is brightly lit, and the Yule log crackles with orange and crimson sparks ~ Vera Nazarian
An oak or pine log was traditionally used to represent God, strength, eternity. Holly was often tucked within the Yule log before burning, and the holly represented past troubles which were then consumed by the flame.
Mistletoe was used to banish negative vibrations, particularly during the holiday season.
Finally, to promote fertility, it was traditional to save the ashes from the Yule fire to sprinkle around the outside of the home.
About The Author: Olivia was born with natural abilities to hear, see and feel messages from the other side, gifts that were discovered by communicating with the dead in her family's funeral parlor! She's quite well-known and respected by colleagues and clients in her Nashville, TN community and has read for many famous musicians. An accomplished lady, she holds a Masters Degree in Clinical Psychology and an Associates Degree in Metaphysical Sciences and Paranormal Studies. If you'd like to receive accurate and detailed answers from beyond the veil, you can contact Olivia at PsychicAccess.com.