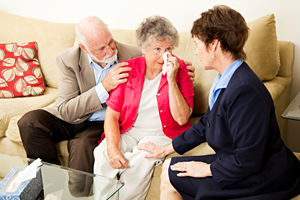 When I was three years old I chatted with 'people' in my room and had real live conversations with spirit entities my family could not see. My parents were Roman Catholic and thought at the time that I was a an anomaly. I was the oldest girl in a family of six children and they were frightened and bewildered by such bizarre behavior from me.
They had me blessed and spread hundreds of prayers around me, hoping I would snap out of it. It's kind of funny but the fact I couldn't snap out of it is because I was a gifted child. I was born with psychic abilities I never had to learn how to use.  Psychic ability and clairvoyant sight were just a natural part of me. As a psychic I was always comfortable in my own skin, and I still am. I am 55 years old and the people I have helped over the years I wouldn't trade for single a moment, if God offered me 30 years off my age!
Everybody can be great. Because anybody can serve. You don't have to have a college degree to serve. You don't have to make your subject and your verb agree to serve…. You don't have to know the second theory of thermodynamics in physics to serve. You only need a heart full of grace. A soul generated by love ~ Martin Luther King, Jr.
Most psychics try to do their best, depending on the client and their needs and problems. I also strive each and every day to be at my best. It's not about me. It's a calling. I put in so much of myself in a reading – my heart, my soul, my spirit and, yes, even my sense of humor.
Many of my clients have pain and are not in a safe space. I share each and every emotion, feeling and problem they go through. I also share their joy, success and genuine and special spirit. I only wish I could reach out a hand or a hug and let each one know how special their life is. Every single day they walk their path I am there with the, urging them on, trying my very best to let them know God holds them in the palm of his hand. He will not ever let us fall.
I do get depleted sometimes, and exhausted, to the point where I'm lucky if I remember my own name. But the psychic calling is something I not only believe in, but practice every single day and with every breathe I take. Being psychic is something most of us practice without knowing it.
I am a Virgo so I was born to serve. I came into the world this way and I will depart the same way. If you need help or guidance, I will deliver every single fiber of my mental, spiritual and physical body to deliver to you the answers that you need. My clients can depend on all the love and support that I can possibly provide. Each and every client who consults me is a blessing in my life. They fulfill my life's purpose. And I will always be here to serve as long as I am able to draw a breath.
About The Author: Mary has perfected her psychic talents since the age of three and has helped thousands in her forty-four years of service. She receives both direct and symbolic messages to her inner eye and works extensively with automatic writing to convey clear and precise messages to her clients. She enjoys a loyal following in her community, in California, and has helped hundreds there to find lost items, communicate with pets, and contact loved ones on the other side. It's both her privilege and passion to serve everyone she can. If you're eager to receive Mary's accurate inner eye messages, you can contact her at: PsychicAccess.com.