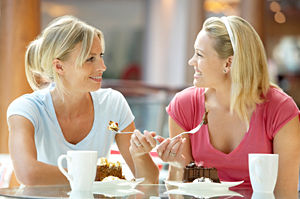 As an only child in a dysfunctional family, I had a great deal of loneliness and confusion during my childhood. The situation was magnified because:
- My father was a military man
- We moved 26 times in the first 15 years of my life
- I lacked any family ties
- My father was Roman Catholic
- My mother was United Lutheran
- Both families rejected contact with us
- My parents only wanted six sons
- My only sibling was a male who died at four days of age.
- And, my mother was a bedridden alcoholic.
For years, I blundered around trying to "find myself." By the age of 16, I had a friendship with another female, Jann, who became my mentor. She understood that at such a young age, I had colitis from the emotional stresses of my childhood. Her family was normal, loving, and spiritually content. When our life-paths took a turn, she remained my friend. She was my first soul sister.
I don't believe an accident of birth makes people sisters or brothers. It makes them siblings, gives them mutuality of parentage. Sisterhood and brotherhood is a condition people have to work at ~ Maya Angelou
My emotional issues developed into stomach ulcers by the time I was 28. I was given a diagnosis of only two months to live. I was terrified because as an only child and a single mother, I had no idea who would raise my children. Therefore, I began a cleansing of my mind and body though meditation. I formed an attachment to my second mentor, a female Buddhist monk named Mary.
Over the next ten years, as I grew spiritually, my second mentor developed into a soul sister. She helped me to see the value of female friends, those who shared deep thoughts, ideas, concerns, joys, and fears at the most welcoming level of existence. I had a big awakening, fortunately that occurred before she died. However, I realized that since acquiring soul sisters, I was not alone anymore!
Another decade passed. I found myself in my 40's when another soul sister came into my life. This time, she did not enter first as a mentor; she came as an equal. Her name was Carol. As the next decade passed, she was still at my side when I returned to visit Jann, my first soul sister, a full 50 years after we had first met. We had seen each other three or four times in those 50 years, but not in the last 15. It felt like no time had passed. The sister bond was still strong. Additionally, we had become equals.
Today, I sit in the home of my third soul sister. I have just spent a week with her. She has held my heart in her hand, as only she could, as a major (totally unexpected) emotional trauma was managed. She has remained optimistic, caring, kind, and tender. She has been limitless in her generosity with her time and resources. Her ear has been tuned to my needs. She understands my passions as well as my weaknesses. I have always felt safe in her presence. I doubt that anyone has ever given me the love that I have received from my soul sister. I only pray that other lost souls, like myself, find themselves as fortunate as I have been to have nearly 20 years with a soul sister to make life seem like the best adventure imaginable. I have been deeply blessed to have souls sisters, as I hope are you.
About The Author: Jacquie Omi is a Master healer of children and animals who resides in a poor indigenous village in Central Mexico. She is a deeply spiritual practitioner and a well educated research scientist who brings her Eastern thought into Western situations. She has been a nonprofit leader since 1986, the president of an educational project since 1991, an Arizona State Certified Teacher (birth ­ grade 12) and a facilitator of businesses since 1986. To attain inner peace and draw positive healing energy into your life, Jacquie can be found at PsychicAccess.com