The Godly Brain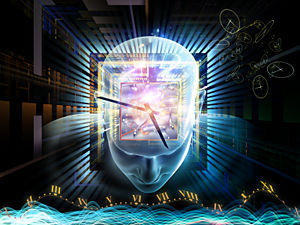 I wonder sometimes if my visions and psychic impressions are absolute or completely accurate. I think this is a healthy and modest approach. I feel that with any information source one must be cautious. I have never tended towards looking for a universal answer, the meaning of life, or spiritual support. I simply applied what I had noticed in my own perceptions and began thinking about it.
Why was this mystical universe supporting this notion if it did not help us adapt to our society? If there was a function to spirituality, this was one application. Perhaps the psychic world was to some people what religion was to others. Possibly the only way to reach these people for spiritual comfort away from churches and formal religion was the mystical approach.  In a world with waning religions, or with religion being seen as uncomfortable ideologies, this can be a safer place for many. This in itself is a way to reach people to do better, and I felt that this function had an evolutionary application.
What I mean by this is that the notion of a 'mystical' area in the brain is enhancing our perceptions. In a sense I perceive this as a both evolutionary advantage, as can be seen how religion brings families and communities together. Anthropologically, religion predated farming – this means that in fact we got our spiritual minds together before we started domesticating animals, and that the city, temple, and our gathering places for humans were actually as a result of religion or mystical union. They have found this in digs, and it was noted that man saw himself as equal to animals prior to the introduction of religion. When he elevated his state, he became the domesticator, and applied himself to farming. The digs seem to prove that even art predated farming, with art amplifying the mystical aspects of society.
I bear this in mind when I do readings, which is why I tend to simply note my perceptions – I wake up and write out my dreams. Or I will note any synchronicities. I also tend to have a certain visual mind, and I can apply theories to visual matrices. This is a very rich and interesting field for me, but by no means am I convinced of all theories, beliefs or even precognitive all being true. I do doubt myself, or ask questions, constantly trying to be my own sceptic. What has amazed me is that even though I keep trying to present this type of work in more of scientific aspect, most people gravitate back towards the ancient or basic notion of God in this subject matter. This seems to be applicable to most states of euphoria – such as music ( which is a way of communicating with each other and activating our mystical cores ) or art, and it is said even in politics, mysticism and religion is used by the state to unify people, as this center is engaged.
So, I look at my gift with wonder – skepticism – and amazement, because I am not certain whether it is my mind that is psychic, or our world is magical. If for one moment, we were to say that psychic or mystical phenomena didn't exist, then I expect the idea of God to be outmoded, out trended and extinct as well. I don't think most people believe that. If a person has a 'religion' or a way of applying their religion ( and I have known plenty of Christian psychics ) then surely this manner would be a way of complimenting it.
© Carmen Miro 2012

About The Author: Carmen Miro

Carmen's waking dreams have provided accurate glimpses into the future for celebrities as well as political and international figures. Her non-judgmental, Empathic approach, as well as her unique method of Tarot reading, affords her the reputation as a groundbreaker in her field. This European born Canadian is the first online psychic to promote the idea of Empathy and emotional thought transference, and she has written a great deal on the subject. For a comprehensive Intuitive reading that will transform your life, you can find Carmen at PsychicAccess.com.