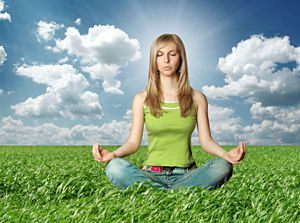 I discovered over the course of my life that the process of meditation is a key to the self-realization of our spiritual awakening.
Meditation is what can connect us to a higher level of consciousness, where we can access wisdom from a higher source of intuition, and directly though a connection with our spirit guides and angels.
There are many different tools that we can use to access higher states of intuition. Meditating on colors such as purple, blue or yellow can help us to connect to our own psychic wisdom on different levels of the chakra energy centers.
We can also access information by using the energy conducting power of crystals, such as those in the quartz family. Crystals are very strong conductors for psychic insights. In my experience some of the most ideal crystals for improving psychic attunement are smoky quartz and amethyst. Scrying stones, such as moonstone or rock quartz, can also connect you to your own source of intuition.
Seeing occurs, of course, through stopping thought. Thought is the fog. When thought stops in meditation, at any point, when there's no thought, we see the other shore ~ Dr. Frederick Lenz
Another excellent source for meditation and opening the channels of higher consciousness are the various divination tools, such as Tarot cards, runes and the I Ching. Personally I find the Major Arcana cards in the Tarot very enlightening and meaningful, because their psychic imagery can reveal many deeper insights and archetypal spiritual truths.
The journey of spiritual awakening and increased psychic awareness is an adventure and can be approached from a variety of access points. Why not start your journey today, or try something new to expand your horizons.
About The Author: As a child, Shelley's "feline whispering" translated to other animals, as well, and she has helped countless clients communicate with their beloved pets. She's saved many animals through her tireless devotion to rescue groups and has offered psychic counseling in-person and through her pet psychic column. Her incredible Mediumship abilities with people and pets have caught the notice of mainstream media and she has appeared as a featured guest on NBC, the Discovery Channel, several prominent newspapers, and on radio as a host of her own Psychic Horizon radio show! This Southern California psychic and Medium is also a paranormal group investigator, metaphysical writer, lecturer and psychic fair organizer who has been listed in The Street Smart Psychic Guide as one of the best pet psychics around. For a reading with this remarkable person and pet whisperer, pop on over to PsychicAccess.com