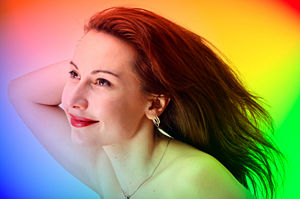 We hear phrases like, "she has a bright aura" or "his aura is dark today", but what exactly is our aura?
Basically, an aura is the energy field that surrounds all matter. Anything that has an atomic structure will have an aura, because atoms are composed of protons and electrons which are in constant movement and they give off electrical and magnetic energy vibrations.
The aura is therefore the energy field that surrounds the object, animal or person. The atoms of animal and plant life are more active, and therefore the energy fields of plants, people and animals are more easily detected than those of inanimate objects.
The human aura surrounds the physical body in all directions.  It is three dimensional and the person's health affects its color and shape. The healthier the person, physically, mentally, and spiritually, the stronger and larger the aura will be, generally speaking.
A luminous radiation that emanates from all living matter; a distinctive atmosphere surrounding a given source; also, a subtle sensory stimulus ~ Rosalyn L. Bruyere
Each person has their own energy field which is unique. There may be many similarities, but no two auras are exactly the same. When a person's aura is very similar to that of another person, natural connection and rapport usually develop between them.
We often use expressions that refer to aura colors such as "I feel blue" or "I am so angry I see red" or "I am green with envy". Specific colors indicate specific qualities and these colors can be seen with a little effort.
Some of the more common colors and their meanings are:
Deep Red – Brave, passionate with a will to succeed.  People with deep red auras are usually quick to anger and may be prone to addictions.
Bright red – Passionate and powerful. These people have almost too much energy which is over directed toward sexual appetites.
Pink – Sensitive, compassionate, somewhat shy.  Pink auras are a weakened red; these people are less passionate about their dreams and goals in life.
Orange - Creative, perhaps overly confident.  A little orange in the aura is a good thing, but too much means one is too much of a risk-taker.
The more you consistently choose loving, appreciative thoughts, the more your aura radiates out that energy of love and appreciation. Then, you truly uplift – what you focus upon shines and your mere presence illuminates ~ Karen Whitaker
Yellow – joyous, creative, playful, good communicators.  Many writers and artistic types have yellow in their auras.  These folks long for a spiritual awakening and the color will become more golden with enlightenment and maturity.
Green – in tune with nature. These people make natural healers. They bring a sense of peace to other people and they are highly intuitive.  Too much green can indicate insecurity or low self-esteem.
Blue – calm, cool, refreshing.  Blue aura's indicate a person is sensitive, generous and generally at peace.
Violet – This is the most spiritual of all aura colors. Most mediums and psychics have at least some violet in their energy fields.
Black or dark grey – This may indicate health problems or fear.  These folks are like 'psychic vampires' in that they leave you feeling drained.  This negative color is usually only temporary.
Most people have more than one color in the aura or energy field.  However, one color is usually predominant over the others. Aura's can also change colors as one learns and grows.
About The Author: Olivia was born with natural abilities to hear, see and feel messages from the other side, gifts that were discovered by communicating with the dead in her family's funeral parlor! She's quite well-known and respected by colleagues and clients in her Nashville, TN community and has read for many famous musicians. An accomplished lady, she holds a Masters Degree in Clinical Psychology and an Associates Degree in Metaphysical Sciences and Paranormal Studies. If you'd like to receive accurate and detailed answers from beyond the veil, you can contact Olivia at PsychicAccess.com.