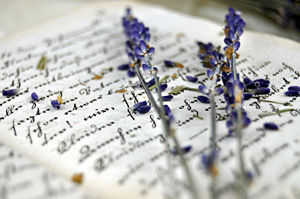 Automatic writing is a wonderful tool. Anyone can do it. It's simple and amazing when you first start out. The first time I did it, I was shocked and pleased that my hand moved without any effort from me.
Curious, I wanted to explore whether it was real, or not. I had my friends try it and the outcome was amazing. Over the years I have used automatic writing as a tool to help my clients during a psychic reading. The results have been phenomenal.
To start out, you must spread protection around you and I do this with a white candle every time I give a reading. Knowing I am in direct link with God and the Universe, I trust the Spirits that come through based on their information. But this is not all there is to it.  When I give a reading I keep a pen and paper nearby and when I feel that psychic 'nudge' I have it right there, to be the tool I need to give the best reading I can.
I love writing.  I love the swirl and swing of words as they tangle with human emotions  ~ James Michener
Clients vary from person to person. Some welcome what comes through. Others are not so happy. But I trust automatic writing to be an extended tool I can use when clients' 'walls are up'.  It takes a lot of effort to get those walls down, but with this at hand I am able to shorten the period and let the psychic flow through.
Many psychics also vary in their approach to automatic writing, but after over forty years of doing this, it comes naturally and it ensures that my clients receive the most accurate and clear readings I can deliver. I cherish the gratification I get out of knowing that a client has received not only a good reading, but a light at the end of a tunnel to guide and protect them.
My first and foremost obligation in my work as a psychic is to walk your path with you. The journey is not always easy, but I walk it no matter what is going on with them. I am bound and committed to making the predictions I make carry the heart, soul and meaning my clients seek.
On your path and journey, you will find a lot of forks in the road. My job is to see that you make that journey with help and aid from Spirit Guides who are always there, always available.  And if I can serve you to get in touch with them I count it a privilege and an honor that you have the assistance you need, whenever you need it.
If you just give it a chance, I guarantee you'll learn to not only believe, but to trust it. I wish you a joyous path, a sacred journey, and as most apprentices do when learning their trade, you too will have your path illuminated. And you will always have the guidance and the help you seek through the psychics you trust.
About The Author: Mary has perfected her psychic talents since the age of three and has helped thousands in her forty-four years of service. She receives both direct and symbolic messages to her inner eye and works extensively with automatic writing to convey clear and precise messages to her clients. She enjoys a loyal following in her community, in California, and has helped hundreds there to find lost items, communicate with pets, and contact loved ones on the other side. It's both her privilege and passion to serve everyone she can. If you're eager to receive Mary's accurate inner eye messages, you can contact her at: PsychicAccess.com.


2 Responses to "Automatic Writing And You"