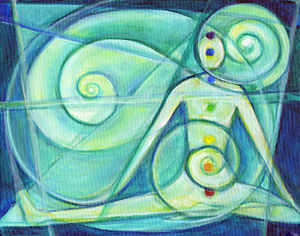 I have been working hard on opening my chakras more. I know they are important to keep them maintained and fine-tuned, but I never realized just how beneficial they really are until spirit spoke to me in a dream last night.
I was sleeping when I was awakened by numbers being spoken to me. These numbers were 7, 6, 3, 14 and 21. In that sequence and also spoken really fast. When I woke up, I immediately remembered and repeated them over and over, until I could write them down.
There was  a definite reason in spirit conveying this message loud enough so that I was awakened, but to have actually pulled those numbers out of my dream, I was happy to write them down and look them over, once I was in a frame of mind to figure it out.
This morning, I woke up and still remembered the numbers, but between getting ready for work and walking the dog, I had no time to really focus on them. I had them with me, and figured at some point during my down time, I would focus on them and try to figure it out.
As time went on through the day, spirit reminded me about the numbers. At first, I figured they may represent the Major Arcana cards in the Tarot, since those are numbered 0 to 21. The last number in my dream was 21.
Energy fields, chakras and all esoteric things should be experienced. And keep your mind clean of all knowledge, so that you don't have any expectations; wherever the experience happens, you are ready to accept it ~ Osho
So, I checked the Major Arcana:
7 – Chariot
6 – Lovers
3 – Empress
14 – Temperance
21 – World.
I did see where some of it could apply to what is going on in my life right now, all of which is very positive, but my intuition told me there was more to it than that. I put it aside again and caught up on some other things, bit soon found myself coming back to the numbers once again.
This time, the first number stuck out, namely 7!  And then I heard spirit say, "Seven Chakras". Aha! Spirit is always on time but gives you a chance to discover it for yourself, they guide and that is what they were doing for me. I realized that 7, 6, 3 were all chakras that I have been able to gradually keep open and shut down when I need to (those three chakra's deal mainly with psychic abilities: 7 – Crown, 6 – Third Eye and 3 – Solar Plexus.
Those are, as spirit puts it, the "well oiled" parts of my abilities. But, there are some of the chakras that are still somewhat "rusty", but I do feel they are coming along. The significance of the 14 and 21 is what fascinated me the most, because I sat there for a few minutes stumped as to what the 14 and 21 could mean.
Each of the seven chakras references different dimensional planes. It is a turnstile that leads us into different dimensions ~ Dr. Frederick Lenz
Then I heard spirit say, "Push further".
So, I researched the Chakras further and found that there are fourteen Major Chakras in the human body and 21 minor chakras!  So, my dream was directly related to my chakras and spirit was letting me know which ones I needed to work on.
At times, what can seem to be encoded, is actually very plain and simple, and we have to use our intuition in order to decipher it, but if we listen closely spirit will guide us 100% of the way.
In October of last year, I worked on some automatic writing with my spirit guide, Analysa, and  she told me this: "There are seven spiritual awakenings and you have unlocked some of them already, now the task is to unlock them all and your journey will begin with them. Those awakenings lead to the divine and they open up all of the knowledge that is needed for your light to shine and for your gifts to blend together and work at full capacity."
This all makes perfect sense to me now. The seven spiritual awakenings that spirit was referring to was the chakras. Spirit speaks, it is up to us to listen closely and follow their guidance.

About The Author: Savannah is a North Carolinian who enjoys a close relationship with Spirit, as does her teenage son and even her dog! A third generation psychic born with the gift of the 4 C's (Clairvoyance, Clairsentience, Clairaudience & Claircognizance), she tunes in through Tarot to contact guides and communicate with Spirit. Savannah is well-versed in many metaphysical disciplines and it is her privilege to help clients to find their destiny. If you're interested in claiming your own destiny, you can find Savannah at PsychicAccess.com.


One Response to "The Seven Spiritual Awakenings"