The Link Between Creativity and Spirituality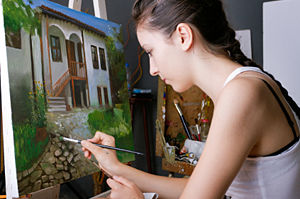 I am a psychic, an artist, and a writer. I paint abstract landscapes in oils. My muse is nature, and my current series emphasizes the details of plant and flower life that we often miss because we're so busy with daily life.
While I'm in the process of painting, providing psychic readings or writing, nothing else exists. It's like an oasis in the maelstrom of life. I'm not thinking about paying the bills or laundry or what I'm going to eat for dinner. I am one with my creation and everything is perfect and peaceful. My mind is clear and my body is weightless. I feel a greater presence of Universal energy and I am part of it.
When I return to the mundane activities of life, I am refreshed, renewed and I actually approach tasks with more energy and efficiency. Making art is truly a spiritual experience for me.
Creativity exists in all of us because creativity in any form is truly a spiritual experience. Have you ever felt so completely absorbed in an activity that time passes at warp speed?
Art is not an end in itself. It introduces the soul into a higher spiritual order, which it expresses and in some sense explains ~ Thomas Merton
If you have experienced this total immersion in a mental or physical activity you may feel peaceful and experience joy because of your creation or problem you've solved. Creativity does not necessarily mean making art. The common thread is that you are creating something that did not exist before. Or you approach a task without negativity or constraints.
I believe we were born in a spiritual state before all of our experiences, emotions and interpersonal relationships put layers of armor around our core, or essence. Essence is the true energetic center of our beings; it is our spiritual connection to the Universe. As adults, it takes time to break down the armor so it's important to practice creativity by doing the things you love and connecting with your core.
In 1999 I was working as a marketing communications writer for a high-tech company. During that time, I signed up for a ground-breaking class given at Stanford University, called Creativity and Business by Michael Ray and Rochelle Myers. In fact, the class spawned a book. It was a great class! The instructor, Michael Ray, refers to our inner resources, or "Essence," and spirituality and how connecting with it enables clear non-judgmental focus where anything is possible. This is a great approach to life as well, I thought.
Are you tapping into your creativity?
About The Author: Dianna

As a conduit to Spirit since birth Dianna provides channeled information from her Guides, Archangels, Ascended Masters & Animal Spirits. During readings, information comes to her through telepathy, empathy, visual images and physical sensations. She additionally uses Automatic Writing for very specific details and timing, Tarot and the Lenormand Cards. Dianna's specialties are providing you with remarkably accurate answers to your questions using her psychic consciousness to assist you in reaching new and rewarding goals. A Libra/Aquarius rising with three grand trines in her chart, Dianna has chosen to use her psychic gifts and Reiki Healing Energy to help others, providing practical answers to life's questions plus healing and clearing blockages. You can get a psychic reading from Dianna at
PsychicAccess.com.