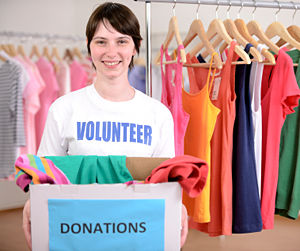 I think one of the best ways to improve one's self-esteem and self-worth is to interact with others and meet new people. Sometimes doing so can be a challenge though.
I often see people that get stuck within the same group of family or friends. This can be a good thing if you are around positive people, but if you seem to attract more toxic relationship than good, it may be time to find some new friends or activities to engage in.
One of the best ways I've found to do this is to begin volunteering for a cause you are interested in, or care about. When you align yourself with your true passions and interests, you set yourself up to meet people that are similar to you, or that will challenge your growth and help you become a better person.
Volunteers are the only human beings on the face of the earth who reflect this nation's compassion, unselfish caring, patience, and just plain loving one another ~ Erma Bombeck
When we engage with like-minded people synchronicities begin to happen and life unfolds with a brand new energy and space in your life. This can greatly improve how you view yourself, because you to want to improve the things you don't like about yourself, and help you meet other examples of people you would like to emulate.
Overall I think volunteering is a simple and free way to not only give back, but to stir up some new magic within your own life. Get out of that rut and explore. Find something new!
I recently had a client who was feeling stuck. She was really upset that she was single and she was tired of the dating scene and becoming depressed about her social circumstances. She started volunteering at her local animal shelter and it was because of doing so that she met the network of friends that eventually led her to her current boyfriend, whom she's happily engaged to now.
There is nothing to lose by getting out. The great thing about volunteering is that it doesn't cost anything, and you not only benefit yourself, but also others by doing so.

PsychicAccess.com.


Ask Pisces is a psychic, empathic, spiritual healer with the ability to bring forth important messages that will help you with any problem ranging from romance to career. She is a certified spiritual response therapist and reiki master. She strives to help every client tap into their own personal power so that they can take control of their lives and spirit. You can get a psychic reading from Ask Pisces at