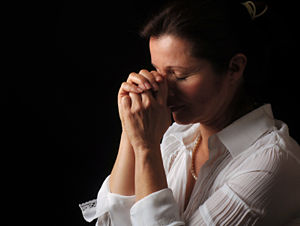 Being a psychic medium to some means that we are totally connected and therefore, we may have a special connection with the Big Guy. That is not the case, at least for me.
I can help anyone find anything a mile away or 100,000 miles away. I can connect anyone to their loved ones in Spirit and tell them with the highest level of accuracy what their future holds for them, tomorrow or 10 years from now, but I do not get any kind of an inkling of this special gift for myself! It does frustrate me, I will admit, especially since I do so much charity work and take my ministry very seriously. I try very hard to live as God would want us all to.
I will say this though, with a Cheshire Cat grin, that I have had many a prayer answered. A big one as recent as the last two days. I have been helping a young mother who lives about a 20 hour ride from my place. She has been unjustly held for a crime she did not commit, but had the huge misfortune of not even visually witnessing, but hearing the words of admittance from the violator, a few minutes after he committed the crime.
The value of consistent prayer is not that He will hear us, but that we will hear Him  ~ William McGill
Everyone involved agreed that she had nothing to do with the crime. Another innocent witness wrote statements proving that she had no prior knowledge, that this was not a planned crime. The perpetrator says she had no involvement. The judge saw it the same way – no involvement. So, she was free to go. But the District Attorney looked at her and said, "I am not done with you yet!" Eventually, she was released of all charges in early June 2011.
It was clear when she came back to our town that she was holding her head in shame. We are from a very rural area, which means that if someone doesn't know your business, they will make a point to find it all out soon enough. Many may even embellish the gossip, adding details all of their own. Not good.
She knew her mug shot had been plastered all over the news and she was devastated by it. She had all ready had serious addiction issues, but her five weeks of sobriety in prison helped her detoxify and she came home with high hopes of remaining clean and sober. Of course, many judge her based on her previous drug issues. I have great faith and continue to pray that someday our society will see drug and alcohol addictions as the illnesses it is, so that people will seek the help they need, instead of being ostracized for a horrible affliction that takes hold of them and often will not release its deathly grip.
I am certainly a rightful hater of drugs and alcohol, because of the dysfunction it caused in my own family from the age of seven. I steer clear of it and those caught up in it, unless they are willing to try to put it behind them; then I will walk every step of the way with them and their sobriety. A friend, a family member, a complete stranger, whoever it is that needs help, matters not to me.
So, the young mother comes back to her hometown to face many turning their backs on her, local police harassing her, and of course a few who are ready to celebrate her freedom with her. So, long story short, she hung with those who always accepted her and, of course, it was her former alcohol and druggie crowd.
From June until September she drank and drugged the sad memories away, the words she wished she had never heard as her friend of many years got into the van in which she was a back seat passenger. She could not forget how he announced, "Something went horribly wrong and I didn't mean to stick him." It all came flooding back, sickened her, made her not want to be alive.
Prayer is not merely an occasional impulse to which we respond when we are in trouble: prayer is a life attitude ~ Walter A. Mueller
She felt great empathy for the widow of the victim, she wanted to write to her, she wanted to know more about the victim. She cried, had nightmares and soothed it with the only things she knew how, that which had been introduced to her at a very young age. That which she had tried time and time again to escape.
She re-entered my life at this time. I had known her at that point for seven years, however I had not seen much of her for the prior two years. She was an aunt to my two beautiful grandchildren. I asked her to come and stay with me, but that I would not tolerate any drugs or alcohol in my home or anyone entering my home drunk or drugged. I told her how psychically I knew she wanted help in the worst way and if she was ready for some hard work, so was I. When I told her I believed in her, I saw the light flicker in her eyes – a light that had long ago left her.
Many warned me and some told me off, because they knew that my own son had given me many sleepless nights and the frequent pacing of hospital corridors with his own drug issues. For years, nine at that point, I had held my breath, praying that that dreaded phone call would not come that my son had passed. Literally, years were riddled with the feeling of impending doom. Countless heavy times, including, horrible accidents, near death experiences, whereabouts not known! But, the power of prayer won out and I knew it had to be, because someday my son would be destined for great things and help many. That day has come in a big way! Thank you God!
The young mother was also close to my son. He had been going out with her sister for seven years. He had been going through unimaginable grief in the year prior, after the death of lifelong best friend, as well as the end to the relationship with the mother of his two children – a woman he had been with from age 19. So, when she got home and went out on her "self-medication" journey my son was right along side of her.
Just as in the medical field, a little pain gets a little treatment or a mild treatment but an exorbitant amount of excruciating pain, which both of them had. Intense emotional wounds warrant a large amount of self-medication (at least in the user's eyes) and let me tell you, there was a massive amount of drugs going through their systems back in the summer of 2011. My son went from a very handsome, young man to an emaciated, unintelligible mess. She definitely was not much better off.
Prayer is communication with the Divine.  It can be whispered or chanted or written or expressed in the work you do.  However it is expressed, it is never in vain ~ Donna Wilk Cardillo
So, while I had given them a chance and let them in, I had to send them on their way. I gathered all the evidence I needed: packages from drugs, dealer contact names, monitored phone calls, and addresses and locations. I then proceeded to tell them that they were one phone call away from doing some pretty heavy prison time, or they had the option of another phone call which would be to a rehabilitation facility. The choice was theirs to make.
This brought me back to being 17 years old and holding up the vodka bottle beside my face and finally telling my mother after 10 years of holding my breath with her, ten years of wondering about that phone call, staying up half the night as a young girl, so she wouldn't leave her dropped cigarette on the floor while passing out and killing us all in a fire. Finally I stepped up! But the choice was hers and addicts always need a choice, they cannot be forced into it. So, when I told my mother she would need to choose between me or that bottle, I assured her that I would never speak to her again if she chose her liquid poison over me. Twenty-four years later, when she passed, she had been sober every day except for one since that defining moment and I was proud to call her mom and even prouder to call her my best friend.
Would they choose sobriety? How did the young mother find herself back in the prison system? Watch this space for my next blog: The Power of Prayer Part 2.
About The Author: Soaring Spirit is foremost a Healer and she does this through readings that she gives and grief counseling that she offers. Her church is a very big part of her life. She is a Pastoral graduate and serves the church in the capacity of Pastor and President of the Board. Soaring Spirit has given over 2,000 readings leaving her clients feeling better than when they started and left with several validations she picked up on, from their energy. She has been told by all of her students and clients that she delivers their messages with extremely high accuracy. She definitely has a direct connection with the spirit world and feels very blessed and humbled by it. Get a reading from this great spiritualist, psychic, medium today at PsychicAccess.com