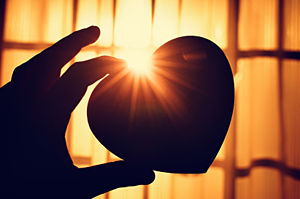 Doubters might inquire, "Are psychics honestly empathic?" Believers will reply, "Of course!" However, few people have explained if empathy is an inborn characteristic, or if it is acquired at home or in a social setting like a school or church environment. I have come to believe that empathy is inborn. However, empathy can be enhanced by appropriate mentors or suppressed by negative influences.
Empathy means having the capacity or ability to understand or be sensitive to the thoughts, feelings, or experiences of others. In order to function as a psychic reader, the conduit of sensitivity within the psychic reader has to be quite high. That elevated awareness allows spirit guides to send messages to the psychic that will be helpful to the seeker of knowledge or insight. As a psychic matures, he or she becomes not only more capable of understanding what is being sent from forces outside his or her self, but also the collection of personal experiences is enhanced.
Every psychic goes through self-evaluation before taking on the role of service to others – those who seek answers about what we cannot see. For me, I looked at my birth time, date, and location. As I studied astrology, I began to realize that I was born empathic.
Resolve to be tender with the young, compassionate with the aged, sympathetic with the striving and tolerant with the weak and wrong. Sometime in your life, you will have been all of these ~ Siddhārtha Gautama
Sun in Aquarius: You are open-minded, liberal and have a definite sense of mission. Above all, you are progressive, and enjoy putting into practice that which is good for all. Moon in Aquarius: You are inspired, for humanity is your family and tradition or domestic ties seldom bind you. Mercury in Aquarius: Mercury is very much at home in this sign, and it often produces the most innovative thinkers and inventors. Always thinking of the world as a unity, you are idealistic and believe in putting into practice what is preached.1
I was very young when I first heard my mother telling another adult: "My daughter is very different. She is always concerned about others. She is a child of the Age of Aquarius." As I learned more about astrology and looked deeper into my birth chart, I began to even better understand what makes up our individual personalities and that there are things about us that are present due to the influences of the planets. In my case, I feel like I am responsible for much of what is outside of my immediate space, far outside my home, community, or even my state.
Calculations show that I have the Sun Opposite Saturn: Construction, conservation and regulation of the life force. Lives cautiously and with discipline. There is always pressure to be responsible and 'do the right thing'. Moon Opposite Saturn: The greatest quality is a profound sense of responsibility.1
Soon, I came to accept that although I could learn right from wrong from teachers, I already had a broader view of life just because of the placement of planets in my birth chart.
Self-absorption in all its forms kills empathy, let alone compassion. When we focus on ourselves, our world contracts as our problems and preoccupations loom large. But when we focus on others, our world expands. Our own problems drift to the periphery of the mind and so seem smaller, and we increase our capacity for connection – or compassionate action ~ Daniel Goleman
Venus Sextile Neptune: You have the gift of working with others, helping them to sense and feel the unity of life. Your love of the spiritual and the eternal is clear to all who meet you. You love to solve the problems of the world.1
My biggest surprise was that Saturn, the great teacher and our conscience has a massive influence on me due to the house placement and the opposition to my Sun, Moon, Mercury, and Mars that are conjunct. Since my Saturn is conjunct Pluto, I got a double whammy!
Saturn in the 12th House: You are very serious when it comes to self-sacrifice and doing all you can to make things easier for other people. You pursue psychology, the human psyche, and things mystical. You are quite painstaking when it comes to giving and helping others.1
Pluto in the 12th House: A born psychologist. You can't help but dig beneath the surface of the human psyche and its vulnerabilities. You are passionate about your willingness to give and to sacrifice yourself for what you believe in. You understand and accept others.1
My intent is that anyone reading this article will look at their own birth chart, or that of a psychic reader, if they have the opportunity, and make informed decisions about to what degree positive empathetic influences are present. In my opinion, your psychic reader should be very sensitive to your thoughts, feelings, or experiences.
About The Author: Jacquie Omi is a Master healer of children and animals who resides in a poor indigenous village in Central Mexico. She is a deeply spiritual practitioner and a well educated research scientist who brings her Eastern thought into Western situations. She has been a nonprofit leader since 1986, the president of an educational project since 1991, an Arizona State Certified Teacher (birth ­ grade 12) and a facilitator of businesses since 1986. To attain inner peace and draw positive healing energy into your life, Jacquie can be found at PsychicAccess.com