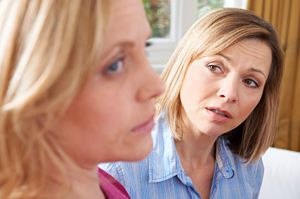 When someone says the word 'trust' the first thing we think of is generally relationships. The topic of my post today is about a relationship of sorts, but not about a relationship between romantic partners. It's about the relationship between a psychic and client.
Trust is one of the most important things to ensure open lines of communication, and if both parties are comfortable, the information shared may surprise you.
I've been reading for the last ten years, and I can count the occasions where I refused to read for someone on one hand. I remember each of those clients, and I still feel bad about having to step back, but I felt I made the right choices at the time.
One example would be someone I chatted to who needed very specific answers regarding a legal matter. She came to me stating that numerous other readers had turned her down, and I soon found out why. I listened to what she had to say, made notes of all her questions and even proceeded to do a Tarot spread for her before I started charging.
You may be deceived if you trust too much, but you will live in torment if you don't trust enough ~ Frank H. Crane
Once I asked her to accept payment, she continued to question me, and the last question, "Can you really do that?" was what caused the shutters to go down for me. The constant skepticism, questions, and pressure just became too much to bear, and I decided, even though I had her answers ready, it was best for me to ask her to see someone else.
Pressure is one of the things that really puts a damper on the connection with a client, so if you want as much information as possible, and you want to get as much as possible from your session with a psychic, be open and receptive. The more open and relaxed you are, the more open and relaxed your reader will be.
I pick up on emotions quite strongly, so doubt or negativity from a client makes it harder for me to do my job. On the up side, if someone is receptive and ready to receive the information Spirit intends for them to have, some of the things that come out of my mouth even surprise me at times!
A good example of this would be a two-hour drive I took with a guy I hardly knew. He worked with someone who did sessions as a psychic medium, so he was fairly open to the idea of psychics and the industry. We started talking and once I told him what I do for a living, he asked me to explain how it all worked and how I do readings. We were just having a friendly comfortable conversation, when I gave him an example of questions I would receive. I said something along the lines of, "A lady named Wendy might call me, and ask me questions about her son, John. She might want to know how he'll do in school, whether he's getting into any trouble, and what she's able to do to help him succeed."  He looked at me and casually remarked, "By the way, you just mentioned my wife and son by name."  I wasn't even trying to read him at the time, so what happened there surprised me as much as it did him, but it was because we were both completely relaxed the information just came through automatically.
Trust each other again and again. When the trust level gets high enough, people transcend apparent limits, discovering new and awesome abilities for which they were previously unaware ~ David Armistead
When that flow of information happens, it's a wonderful thing.  It's an amazing experience to be such a clear and open channel, and I love the feeling of information coming to and through me without reservation or doubt.
If you've had experiences where you were less than comfortable with a reader, it's perhaps best to consult someone else before going into a paid session. Not all readers and clients connect in the same way or on the same level, but if this happens continually and with multiple readers, it may be time to look at exactly how open you are. The first step to connecting is trusting, and it has to come from both sides.
I have had some amazing clients along the way, and I'm sure I'll meet many more as time goes on. I'm truly blessed to be in this profession and to be able to connect with and help so many different people.
Most psychics are in the profession because they care and because they want to help, so rest assured that if the answers are there to be given, they'll be shared. Trust the reader of your choice enough to do a good job and you're likely to receive the guidance and information you need through an amazingly 'connected' reading.
About The Author: Allanah is a South African treasure, living in a majestic place called the Boland, surrounded by mountains, vineyards and orchards. She's a phenomenal Tarot reader, who incorporates her natural claircognizant and clairsentient abilities to tackle any issue. She also studies crystal and Reiki healing, and makes her own natural homemade cosmetics and skincare products. With the added help of her personal guide, Allanah will assist you to make the right choices in your particular situation and help guide you onto a path that will lead to greater joy and love. With thousands of clients singing her praises, she welcomes everyone, from all walks of life. You can find Allanah at PsychicAccess.com.