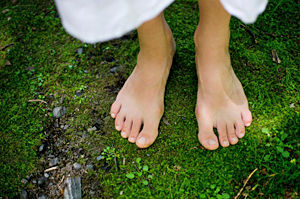 We all have had experiences of emotional scarring in our lives.  This is simply part of being human and it is also part of the growing and learning experience. However, ways exist in which you can encourage healing and reduction of trauma.
The first step in emotional healing is to recognize that everything in life, every decision, every relationship, every dream has its place in the ongoing path to wholeness. Recognize and feel your own pain. Accept this pain as part of your path.  Then, let it go.
As you allow yourself to feel, rather than deny or suffocate your feelings, a calmness and peace will descend upon you. You must feel the emotions to learn the lessons you are meant to learn. Through denial, victimization, blaming and other defense mechanisms, we often deny ourselves the ability to learn and thus we must learn the same lesson another way.
Ground yourself, strip yourself down, To blind, loving silence.  Stay there, until you see. You are gazing at the Light. With its own ageless eyes ~ Rumi
When you are distressed, ask yourself, "What am I learning?"  You may also ask, "Why am I afraid?"  Almost all, if not all, negative or disturbing emotions are based on some form of fear.  Something within us feels threatened and you must determine what part of you is perceiving the threat in order to overcome it.  Is your physical body threatened? Is your safety or security threatened? Is your self-concept or self-esteem threatened?  Asking these questions can often help answer the first question, "What am I learning?"
These disturbing energies can take over your thoughts, your mind, your physical well-being. These energies must be dispersed. You may have heard of the term 'grounding'. However, few people are aware of what it really means. Simply put, grounding is a method used to drain excess energy which, in turn, will keep perceptions and emotions clear and balanced.  When a person is clear and balanced, they rarely, if ever, have an emotional outburst. The balanced person can look beyond a particular situation and ask the greater questions such as,  'What am I learning?"
So how do you ground yourself? How do you become grounded and thus clear and balanced? The simple answer is to do what the term implies. Touch the ground. This may sound too simple. And there is more to it than that, but that is the starting point. Put your hands on the earth, feel the energy of the earth rise up around you. Become aware of all the energy fields around and within you. Some feel good, some are less desirable.
In a flash of wonderment she saw firm, continuous ground under her feet, stretching from back then to right now and on and on as far as her eyes could take her ~ Ann Brashares
You can sit with your feet firmly planted on the ground or, better yet, lay down on the earth. Close your eyes. Focus on all the negative energy you wish to dispel or rid yourself of. It might come in the form of anger, frustration, sadness, worry, or any other of the numerous forms of fear. Feel it. If you are sad, allow yourself to feel the sadness. Where is it coming from? Why is a miraculous creature such as yourself feeling this? Observe your feeling. This separates you from it. The observer and the observed cannot be the same entity. You are separate and observing your own pain.
Now release this energy into the ground. Feel it draining from your body. Feel the uplifting of your spirit as the pain leaves you. The earth absorbs this negative energy for balance. The earth needs it in a way that you do not.
Once you have released the emotions, let them go. If and when they re-emerge, become the observer again. Separate yourself again and let the pain go. You don't need it now. You have felt it and learned from it. Now it is time to let it go.
You are grounded. Welcome to a life of love and light.
About The Author: Olivia was born with natural abilities to hear, see and feel messages from the other side, gifts that were discovered by communicating with the dead in her family's funeral parlor! She's quite well-known and respected by colleagues and clients in her Nashville, TN community and has read for many famous musicians. An accomplished lady, she holds a Masters Degree in Clinical Psychology and an Associates Degree in Metaphysical Sciences and Paranormal Studies. If you'd like to receive accurate and detailed answers from beyond the veil, you can contact Olivia at PsychicAccess.com.