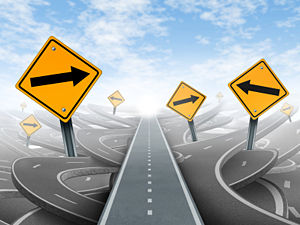 Responsibility is something we learn from a young age. It starts with simple things, like learning how to brush our own teeth as small children, and as we grow up, so does the responsibility.
Now, as adults, we are in a place of responsibility where all we know from the day to day is duties and chores like washing the dishes, cooking dinner, running carpool and, of course, that 'little' issue called work. Let's also not for forget about the things that run in the back of your head, like the gas bill, the monthly house payment and all the other things that just keep coming.
The question is what are we really responsible for on a spiritual level? Are we responsible for all of our live experiences?
What I have learned over the years is that we do have free will and we can control our experiences by what we think, and how we think. How we view things and people is how we create our life experiences.
Our real responsibility is to take a moment and look at our own thoughts, and really look at what we are saying to ourselves. We must consider how we are communicating with ourselves about ourselves and about our own lives.
Take your life in your own hands, and what happens?  A terrible thing:  no one to blame ~ Erica Jong
One of the hardest things to learn is what role you played in past life experiences, even if they were not good experiences. The question really is what role did you play in past experiences that were not positive?
Well, I am not saying that learning these life lessons are all positive, because they are not. What I am saying to you is, take a moment and really think about situations in your life that where hard and in which you were pushed emotionally. Be honest with yourself. What did you do, or not do that affected the situation? Then release it. Having a understanding and then releasing the past and forgive everyone is a very healing experience and a valuable lesson.
As the saying goes we are what we think. We have to get to a place where we are able to let go of the guilt, self-hatred and criticism to move forward. We are responsible people who have been taught to do the right things, so take time to think about how you were in someway responsible for the life experiences you have had. What did you learn from them?
And always remember that your thoughts will create your future.
About The Author: Carmela has have been psychic since she was a child. Carmela's gifts are clairvoyance, clairaudience, clairsentience, medium. Carmela has worked on cases for law enforcement agencies across the country.
Carmela also works with several different groups that develop psychic kids and teach the parents what to expect and how to deal with psychic children. You can get a reading from Carmela at PsychicAccess.com