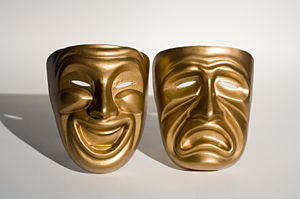 There are times in our lives when we wonder, why did this happen to me?  All our dreams and wishes become confused with just getting through our daily life.
I like to think that life is a balance. For every time we experience joy, the flip side of sorrow will follow. When we grieve or fear something ahead, the flip side is that there will also be days that will be perfect. We all have days where we 'hit all the green lights'.
Sometimes we feel lonely or neglected, and at other times we get all the love and attention we need, without even asking. There are days we love and days we are loved.
There are days that go so wrong nothing we do changes it and we hate the world.  Outside influences and internal emotions collide on such days, and we don't understand what is going on. This is where the psychic world comes in. We have free will but we also have social responsibility – to our neighbors, our co-workers, ourselves.
Life cannot exist without polar opposites. Life is a dialectical process – between man and woman, between darkness and light, between life and death, between good and bad. Life cannot exist without this duality; manifestation is not possible without duality ~ Osho
When an inner light shines in us, then life is a beautiful thing. We have help; spirit guides that come when we need them.  Sometimes in a dream state we see the entire picture of what our dreams are.
Changes are complicated and difficult enough to go through. If we can allow ourselves to trust and believe in the work and effort we put in to what we love and do our best at, then perhaps change won't scare us so much. One step at a time.
About The Author: Mary has perfected her psychic talents since the age of three and has helped thousands in her forty-four years of service. She receives both direct and symbolic messages to her inner eye and works extensively with automatic writing to convey clear and precise messages to her clients. She enjoys a loyal following in her community, in California, and has helped hundreds there to find lost items, communicate with pets, and contact loved ones on the other side. It's both her privilege and passion to serve everyone she can. If you're eager to receive Mary's accurate inner eye messages, you can contact her at: PsychicAccess.com.