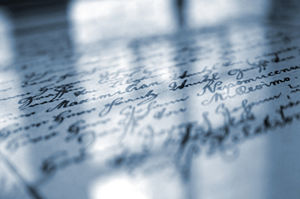 Automatic writing phrases frequently come to me just before I awaken from a night's sleep. In the same way that meditation is best 'between the worlds' of wakefulness and sleep, so is my automatic writing.
I am sometimes sure what is to be done with the words. Other days, I have no idea why I am writing the words, but I record them nonetheless.
How Do I Know They Are Not My Words?
My writing style is distinctive due to my dyslexia (a learning disability). I have to make many corrections for spelling errors. I cannot see letters in the same manner that those without dyslexia see letters. Additionally, the need to correct grammar is always there.
I am shocked to find that when I am receiving channeled writings, nothing is misspelled! The words simply flow onto the page. No corrections are needed. There is no hesitation related to what is going down on the paper. I see that I am making a record of letters on the page in front of me, but it feels like I am watching a movie or an animation. It seems as though I am just a puppet that is being controlled by others outside my vision and my understanding.
The pages are still blank, but there is a miraculous feeling of the words being there, written in invisible ink and clamoring to become visible  ~Vladimir Nabakov
The Trigger For Automatic Writing Was Engaged On Earth
A close friend retreats into prayer several times a day. He is retired from gainful employment. His entire repertoire of work is at a spiritual level. I knew that he was working on a prayer service to send positive energy to some people he loves and to the country of Pakistan.
Before I opened my eyes this morning, several lines were already in my mind's eye. As I began to write, the letters just appeared. I was certain that the poem came to me as a gift to pass on to him. He will incorporate it into his prayers.
Here are a few lines of the automatic writing that came to me this morning:
This Love
This love is not offered for material gain or social power on this plane, but to be used as vital energy for perfect good.
This love could make the sun not shine or the moon not rise. However, harm will never be the outcome of this shared gift.
This love knows no boundaries on the earth's plane, or even in the heavens, because the extent of this passion is limitless.
This love is as innocent as a new born babe, and yet, as wise as the old sage, who would cure another with one glance.
So much of what we psychics see, is a puzzle to be solved or a knitted sweater to be unwoven. The messages from spirit to the psychic and for the seeker are typically clothed in an array of unknown garments. The job of the psychic is to accept these mysteries, the gifts, and enormous responsibilities with an open heart and mind.
A psychic is but a messenger. There is no room for judgment, intolerance, or criticism in our role. Divine presence has assigned us the role, and we need to only obey to be best of our abilities.
About The Author: Jacquie Omi is a Master healer of children and animals who resides in a poor indigenous village in Central Mexico. She is a deeply spiritual practitioner and a well educated research scientist who brings her Eastern thought into Western situations. She has been a nonprofit leader since 1986, the president of an educational project since 1991, an Arizona State Certified Teacher (birth ­ grade 12) and a facilitator of businesses since 1986. To attain inner peace and draw positive healing energy into your life, Jacquie can be found at PsychicAccess.com