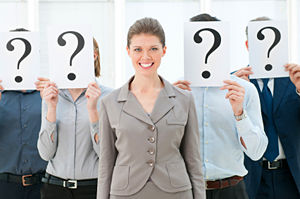 Recently I was reminded that some clients have an expectation that we as psychics can pull 'magic' out of the air. Truly, because all things are connected energetically, many times it appears we do! However, we do not pull information out for you that you will find useful unless you have a clear intention about the information you are looking for, or put another way, a fairly clear idea about what you really need.
I am always willing to answer your questions, general in nature or not. I am never unwilling to help you. My request to you is to help me help you. I don't need a 10-minute history to give you the information you need, but I also need to be directed to where you want me to truly go. Your life is vast, big, and there is a lot to it! When you ask me to give you a 'general' reading about your life, but what you really want to know is where your marriage is going, please know that you will probably be dissatisfied with my answer.
A prudent question is one-half of wisdom ~ Francis Bacon
In my work, I really feel I can give my clients the best and truest information when they do one of two things. Either completely give me freedom and be willing to listen to what their guides and angels are telling them, or, ask really specific questions. What follows are some of the questions clients have asked over the years that have been specific enough to unlock really satisfying answers.
1. What outcome do you see for this situation?
2. Where do you see this relationship in 3 months from now, (6 months from now, 2 years from now?)
3. Is there anything I can do differently to make this happen faster?
4. What can I do to move myself forward in this situation (or relationship?)
5. Where should I be focusing right now?
6.  What is the most important information that I need to know right now?
7.  How do I get 'unstuck' from my current perspective or viewpoint, (so that I can move forward.)
My goal and desire in this work with you is to really give you what you need: a different or maybe even broader perspective so you can make more informed choices. Not only do I want to connect with you, I want to really help. It is a wonderful gift to yourself if you think about what you really need to know and then ask me that so I can give you the most information for your time and money.
It is not the answer that enlightens, but the question ~ Decouvertes
Oftentimes, if we gain an understanding of our past, it helps us move through our emotionally stuck places. Great questions to ask your psychic that could open up your ability to change previous patterns might go something like this:
8. What patterns do you see that I have carried with me that no longer serve me?
9. What is the next thing I need to do to attract the relationship (or circumstance or job,) that I really want?
10. What can I do to move towards my purpose in life?
None of the questions above will have a simple yes or no answer. All of them will pull information out of your psychic that will give you some additional clarity and insight – which is, of course, why you contact us in the first place! I look forward to your chat or call, and I look very forward to your questions.

About The Author: Krystal is a Direct Reader, receiving channeled information from guides who call themselves "The Nine." Her clairvoyant, empathic and telepathic abilities to connect with others is not limited to people, but also includes the animal kingdom, as well. She has read for many notable personalities, including Mrs. Zales of Zales jewelry, but keeps her list of celebrities confidential. Her work with channeled writing is so accurate, she has amazed her clients with the depth of detailed information she provides. For a reading with this lovely and compassionate California psychic, go to PsychicAccess.com


One Response to "Top Ten Questions To Ask Your Psychic"