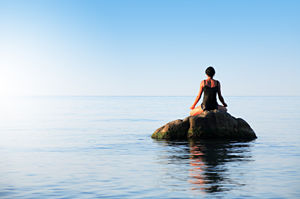 There are aspects of being a psychic that can be stressful. In the same way that being a healer is physically challenging, psychic reading is emotionally draining.
A psychic reader often counsels people based on what spirit has relayed in the reading or unseen message. Anytime that advice is offered to another, there is a high level of responsibility by the seer. This level of accountability toward the seeker can be emotionally and physically draining for the spiritual guide.
Facing that level of need for accuracy of interpretations, day after day, by solving the puzzles that spirit offers to readers, requires a great deal of rest. The psychic needs to be at their best the entire time they are serving clients.
The Necessity of Retreats
A retreat can be a necessary break for a psychic. When a reader has fellowship with others in the same field, plus time for meditation, prayers, long quiet walks in the woods, a swim in a mountain stream, or to simply sit and watch nature, a great deal of renewal occurs. There is an internal healing needed due to the pain of so many sad stories.
Rarely does a seeker call and say, "My life is going great! What else wonderful do I have coming to me?" Typically, stories of love lost, jobs ending, empty bank accounts, deceased friends, or illness is what the psychic hears most days.
To withdraw isn't a sign of weakness… It is a sign that a man knows the limits of his capabilities and the most probable outcome of the future. One who retreats to fight another day isn't running away, but looking for another road towards the same destination ~ Lionel Suggs
Like-Minded Networking
The advantages of being with other psychics are priceless. To have the face-to-face affirmation of someone doing the same job as I am doing, is like being an athlete on the same team. There is a level of understanding that cannot be found when talking to those who are not doing psychic work. This talent, gift, ability, curse, or whatever it might be called, is not easy to understand.
As we support each other, we create a supporting web, like a hammock, to give each of us the foundation of love, trust, and honor that we need. Faith in the goodness of what we offer to others, seekers of truth, is vital to reading clearly. When we readers have closer bonds the results are beyond mortal comprehension. Our shared workshops help us to increase our respect for each other. We also increase a network of experts to reach to in the event of a question or a crisis.
Nature at Work
Medical science has proven that people heal faster if they can relax in, or view natural settings. We also have learned that touching an animal's fur or feathers immediately affects our blood pressure and heart rate. For a psychic to walk in the woods, or swim in a cool, clear natural mountain stream, or smell the earth after a warm rainfall, or hear the crickets at night, renews his or her receptive energies. The time spent is minimal compared to the exponential benefits received.
Many clients look toward their psychic readers as an eager listener, a trusted friend, and a compassionate counselor. Having access to such a valuable asset brings security. However, know that when your favorite psychic is away to be 'renewed, they will back soon to do their very best to serve you better.
About The Author: Jacquie Omi is a Master healer of children and animals who resides in a poor indigenous village in Central Mexico. She is a deeply spiritual practitioner and a well educated research scientist who brings her Eastern thought into Western situations. She has been a nonprofit leader since 1986, the president of an educational project since 1991, an Arizona State Certified Teacher (birth ­ grade 12) and a facilitator of businesses since 1986. To attain inner peace and draw positive healing energy into your life, Jacquie can be found at PsychicAccess.com