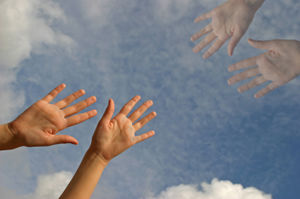 Have you ever wondered why someone close to you who has passed away, have they not made contact? Why can't you see them? why can't you feel them? You were so close when they were alive, why can't they just show you a sign or something?
Well, when a person has passed away and they have not made contact, it means they are in their final resting place. It means they are at peace. So, it's a good thing!
This is the reason  why it is sometimes hard to cross over and reconnect with loved ones that have passed away. Don't be discouraged if you cannot make a connection with your loved one who's passed on, it just means they are fine and they are where they belong.
I believe that before anybody makes the journey to the other side, we have to know on a soul level that we are leaving, whether it's an accident or illness, and we prepare ourselves to a certain degree that we won't be there in the future ~ John Edward
However if you do receive signs, messages, dreams or visions from those who have passed on, it could mean that they are not at peace, or it could mean that they are not in their final resting place. There could also be several other reasons.
This is why it's often good to connect with a medium or spiritual advisor for this type of matter. It could be that your loved one wants to give you a message. It could even me a sum of money that they have left behind for you, or some family heirlooms they want you to have! Anything is possible.
You can find out what the other side wants you to know with one spiritual reading! Get in touch with a psychic medium to get messages from beyond the grave.