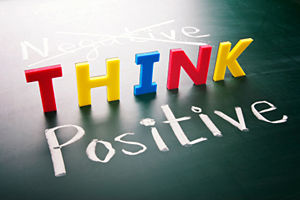 I've learned over the years that negative thoughts and fears tend to manifest, and have for some time wondered why this is the case. Once I found out about the Law of Attraction, it all made sense, and I had that proverbial 'light bulb moment'.
Our thoughts are energy that we send out into the Universe, and if all we think about are our fears, that is what we end up attracting to ourselves and draw into our lives.
Emotions are powerful, and fear, worry, and anger are all emotions we feel frequently as part of the frustrations we face. Because those emotions are so strong, their effect tends to be the same. This is why I've made a conscious effort to replace fear and worry in my life with anticipation.
The World is what we think it is. If we can change our thoughts, we can change the world ~ H.M. Tomlinson
Positive thoughts have the power to change our lives, and shifting fear towards anticipation, and worry towards gratitude can bring about a real shift in perspective and the eventual outcome.
Thinking about what we do want helps draw those energies in, and positive change cannot be far behind. It's amazing how our mindset not only affects and transforms ourselves but also relationships we have with those we love.
Like attracts like, and if we hope to see changes, the very place to start is within and change the way we think.  There's the saying 'You are what you eat', but I think 'You are what you think' is just as true, if not more so.
About The Author: Allanah is a South African treasure, living in a majestic place called the Boland, surrounded by mountains, vineyards and orchards. She's a phenomenal Tarot reader, who incorporates her natural claircognizant and clairsentient abilities to tackle any issue. She also studies crystal and Reiki healing, and makes her own natural homemade cosmetics and skincare products. With the added help of her personal guide, Allanah will assist you to make the right choices in your particular situation and help guide you onto a path that will lead to greater joy and love. With thousands of clients singing her praises, she welcomes everyone, from all walks of life. You can find Allanah at PsychicAccess.com.