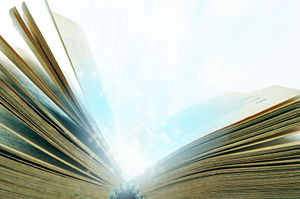 As the 'back to school' season approached yet again, I've spent a lot of time thinking about how I can best help my daughter with her studies and tests. I am in school as well, so we both have lot of studying and learning ahead of us. I don't particularly get nervous about taking tests, but my daughter does.
I was asked recently if there was anything spiritual a person can do to help ease the stress of constant studying, focusing on homework and the anxiety that comes from having to take so many tests. I'm happy to report that yes, there is!
As a Reiki practitioner I often call upon Archangel Raphael for help with my healing sessions. I call upon him because he is known in the angelic realm to help with such matters. Just as Archangel Raphael helps with healing, Archangels Uriel and Zadkiel can help with studying and tests.
God not only sends special angels into our lives, but sometimes He even sends them back again if we forget to take notes the first time!  ~ Eileen Elias Freeman
Archangel Uriel is particularly great to ask for help with taking tests and focusing on daily homework assignments. Archangel Zadkiel is extremely helpful to call upon when you need to memorize , or remember a solution or phrase. My suggestion is to call upon them both.
All students can benefit from their help and no request is ever turned away if asked with a sincere heart. No special ritual or incantation is needed. Simply pray to them asking for help and you will receive it. I am two years into school myself and I have asked for their help many times.
As I mentioned, I also have a daughter who is about to enter middle school and even if she doesn't understand how to ask for help from the archangels, I often do it for her. I have noticed that since doing so, she has been much more calm and focused about not only her daily homework, but taking tests and giving presentations in front of her class.
The help is there if we need it. All we need to do is ask the angels for it, so why wouldn't you? My suggestion to you if you are a student, or someone that knows a student, is to try it and see what happens. You may be surprised by the results!
About The Author: Ask Pisces is a psychic, empathic, spiritual healer with the ability to bring forth important messages that will help you with any problem ranging from romance to career. She is a certified spiritual response therapist and reiki master. She strives to help every client tap into their own personal power so that they can take control of their lives and spirit. You can get a psychic reading from Ask Pisces at PsychicAccess.com.