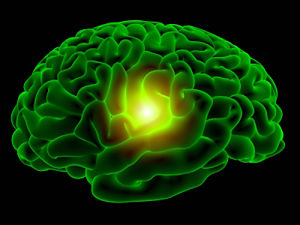 Activating our sixth sense takes practice like anything else. I began reading and learning about the pineal gland several years ago. This little pine-cone shaped gland rests deep inside the center of our brain.
For centuries, the pineal gland has been associated with psychic abilities. It has been called the 'seat of the soul' or the 'third eye'. I believe it is related to our sixth sense. This gland allows us to see into other dimensions.
The pineal gland begins to calcify or harden around the age of 12. It also hardens due to lack of use, and from fluoride in our tap water and toothpaste. I remember in elementary school they even had us 'swish' with fluoride rinse!
Have you ever noticed how children will say they saw something and some adults may brush it off as 'imagination'?  Their little pineal glands are still fully functional and most times, parents don't even realize this.
The pineal gland excretes dimethyltryptamine (DMT), a powerful and totally natural psychedelic known to induce dreams, near-death experiences, remote viewing, deep spiritual experiences, channeling, and out-of-body and shamanic-travel experiences ~ Dr. Jill Ammon-Wexler
In life we get so busy and preoccupied with trivial things, we forget to listen to the profound things our children say in passing. When a child talks about the 'friend' they see, but is imaginary to us, you can rest assured that child is talking to spirit. I'd like to think if we take more time to talk to our children about what they are actually seeing, those little pineal glands may not atrophy as quickly – maybe even not at all.
I believe it is important to help our children exercise this gland, so that with help from u, we may possibly have a new generation that is able to see past the veil and into other dimensions. At about seven years old, my son saw a ghost. We talked about it, he pointed the ghost out to me, and although I could not see what he was seeing, I knew he was telling the truth. We have continued to discuss it, but with him being so tuned in to books and other things at this age, it is hard to keep him focused on spirit. He does know they are there and he does come back to it from time to time. I was the same way at his age – too focused on what is going on here to pay attention to the subtleties of spirit.
There are seven chakras in the human body. The pineal gland is located in the sixth one, also known as the third eye chakra. From here it enables our sixth sense. This wonderful gland increases psychic abilities and acts as a gateway between our physical world and the spiritual world.
Many teachers will tell you to believe; then they put out your eyes of reason and instruct you to follow only their logic. But I want you to keep your eyes of reason open; in addition, I will open in you another eye, the eye of wisdom ~ Sri Yukteswar
I have spent many, many years concentrating on my third eye through meditation. With a lot of work it has gotten incredibly strong. I do believe that it can be activated with time and patience.
Did you know that researchers have discovered that there are calcite micro-crystals present in the pineal gland? I believe these crystals act as a sort of 'conductor'. It transfers signals to and from other worlds and dimensions.
It is believed that some of the most famous prophets in the world have undergone pineal gland activation. This can be done with several techniques, but the one I use involves concentrating on the center of your forehead (between your eyes) and practicing opening and closing it and looking around as if there is an actual third eye right in the middle of your head. With time and patience, I have been able to see flashes of light and color. I also hear spirit thoughts and voices and have been able to communicate with them. Patience and awareness of your third eye is all that is needed to find the gateway to other worlds.

About The Author: Savannah is a North Carolinian who enjoys a close relationship with Spirit, as does her teenage son and even her dog! A third generation psychic born with the gift of the 4 C's (Clairvoyance, Clairsentience, Clairaudience & Claircognizance), she tunes in through Tarot to contact guides and communicate with Spirit. Savannah is well-versed in many metaphysical disciplines and it is her privilege to help clients to find their destiny. If you're interested in claiming your own destiny, you can find Savannah at PsychicAccess.com.