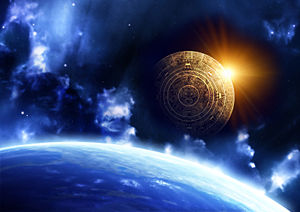 I recently gave a lecture entitled "The Prophecies and Astrology for 2012." In preparing for this lecture, I studied many prophecies for this phenomenal year and beyond, including those of the Mayan, Cherokee and Egyptian.  Also, with the help of several astrologer friends I studied the astrological chart for December 21, 2012.
I was surprised at the findings of this research. The astrological chart for December 21,2012 is not so catastrophic as we might think. Instead, it is a chart showing a T-square (conflicts), but this one is between Neptune or Chiron (our spiritual source or Healer), Venus (our connection to Earth and our Heart) and Jupiter (wisdom acquired through the expansion of the heart). This T-Square is also aspected by Pluto (transformation) and Uranus (chaos).
I think this configuration generates an awareness of the reality of reunification of all humans with the Earth and with each other. It also compels us to reintegrate our Spirit with the consciousness of the Earth. And since Pluto and Capricorn are involved, I believe that this signifies the rebirth of Mother Earth.
Other people write about prophecy in the name of the Maya. They say that the world will end in December 2012. The Mayan elders are angry with this. The world will not end. It will be transformed. The indigenous have the calendars, and know how to accurately interpret it, not others ~ Carlos Barrios
I also found by studying the work of Carlos Barrios, Mayan elder and Ajq'ij (ceremonial priest and spiritual guide) of the Eagle Clan, that at sunrise on December 21, 2012 for the first time in 26,000 years the Sun rises to conjunct the intersection of the Milky Way and the plane of the ecliptic. This cosmic cross is considered to be an embodiment of the Sacred Tree, The Tree of Life, a tree remembered in all the world's spiritual traditions.
Some observers say this alignment with the heart of the galaxy in 2012 will open a channel for cosmic energy to flow through the Earth, cleansing it and all that dwells upon it, raising all to a higher level of vibration.
Carlos reminds us: "This process has already begun. Change is accelerating now and it will continue to accelerate. We need to work together for peace, and balance with of all religions, faiths and races and beliefs. We need to take care of the Earth that feeds and shelters us. We need to put our entire mind and heart into pursuing unity and unity now, to come together and preserve Earth and all life."
About The Author: Julia Marie started studying seriously with a Master Astrologer and Tarot Teacher after a near-death experience changed her life. She became a professional tarot reader and astrologer four years later. Julia Marie has been professionally consulting and teaching Astrology and Tarot for over 25 years. She currently enjoys her own full time practice in the Texas, Oklahoma and Arkansas area. Spirit and Spirit Guides actively channel the information to her which you need to live your life in love, abundance, peace and happiness. Her goal is to help those people that God places in her path. You can get a psychic reading from Julia Marie at PsychicAccess.com.