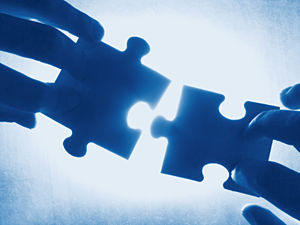 There is no way to explain the anticipation that a psychic reader feels when the phone rings. In the vast world of communication, the seeker on the other end of the line might ask anything.
Questions like, "Do you predict pregnancy accurately?" I find amusing. Why not ask, "What questions don't your spirit guides answer correctly?" That question makes no sense, of course, because there is no question they will not answer unless the seeker should not have the information, for some reason, we mortals do not understand.
What is the Best Question?
It is the wise seeker who says, "What do you see?" and then anticipates hearing back parts of a puzzle. Every reading is a puzzle to be solved. The psychic has to figure out several considerations:
1. Whom is my spirit guide addressing with this reply?
(a) Is it the seeker?
(b) A mate of the seeker?
(c) A child of the seeker?
(d) Or are my spirit guides simply trying to reach someone else through the seeker, like a close friend or relative, since that individual is a skeptic who will not ask for advice from anyone?
2. Is the message active or passive?
(a) Does the seeker need to do something?
(b) Or should the seeker just sit tight and wait for the hands of fate?
Life is a sum of all your choices ~ Albert Camus
Considering the Seeker
Psychic readings are a complex web of communication on several levels. The energy force can be clear, strong, and direct or foggy, weak, and slippery. I think that it is not the spirit guide who is evasive, but instead the item of interest to the seeker. Not all people or other living things process information clearly.
Mortals jump over the line from sane to insane with a small change in mental attitude that makes statistics move toward a diagnosis of 'out of normal range'. This can be a physical characteristic or the result of self-medication. We can force instability in others or ourselves by using chemical combinations that have unpredictable outcomes.
For example, the answer was easy when a clear-headed, self-motivated attorney called me one day and said, "What do you see?" I explained her business goals and what she was doing in her love life. She replied, "Right! You were so accurate. I will call again." Then she hung up. Her clean energy field made it easy to see, analyze, and say what was going to happen, with whom, and how.
However, when I get a call from a girl, for example, who had been dating a married man for seven years (who she does not even like) the replies from spirit get complicated. Additionally, she has a son in jail, a daughter who is dealing drugs, and a sick father she is caring for. These are all factors to making the reading more complex. She typically asks, "Will he marry me?" The reading is likely to have blocked communication. There will be two or more women involved, trickery, illness, loneliness, unhappiness, financial concerns, and pending legal issues. How can there be a clear definitive reply within so many misaligned examples of human deception coming through the question?
Life is not complex. We are complex. Life is simple, and the simple thing is the right thing ~ Oscar Wilde
Another Question
'What do you see for my child?" is a far more pure question. A child may be cruel or a bully to another child, but in general, they are less sophisticated and more naive. Most children want to please adults, but may find the expectations of adults overwhelming. The psychic reading reply may simply be to tell the mother that if there were to be more love, and fewer demands, the child would be more successful in school and happier at home.
Conclusion
Psychics are able to see just enough when the seeker is self-directed and aligned with their karma. We sometimes see too much when several mortals are entangled in complex and overlapping circumstances. When unencumbered souls speak to us, the messages are often perfect. The lesson here is to understand that the more complex the people's lives are that are 'brought into the question the more complex the psychic's reply will be. The puzzle pieces must fit together in the future to make sense in the present – be patient in complex situations.
About The Author: Jacquie Omi is a Master healer of children and animals who resides in a poor indigenous village in Central Mexico. She is a deeply spiritual practitioner and a well educated research scientist who brings her Eastern thought into Western situations. She has been a nonprofit leader since 1986, the president of an educational project since 1991, an Arizona State Certified Teacher (birth ­ grade 12) and a facilitator of businesses since 1986. To attain inner peace and draw positive healing energy into your life, Jacquie can be found at PsychicAccess.com


One Response to "Complicated Lives Create Complex Readings"