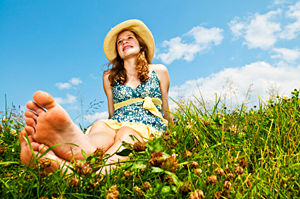 Growing up, I could never understand why the adults in my life couldn't remember something I had no trouble remembering. I would roll my eyes when my mother misplaced her keys or forgot someone's name. Now that I am older, I find myself doing the same thing!
I think sometimes we as humans, living within this physical existence, allow ourselves to have too much on our minds. We memorize lists; we think about where we need to go and be on a certain day. Our minds get cluttered with what to wear, who to call, what errands we need to run, and whether the car needs gas.
And if you're a spiritually aware or inquisitive person, you may be thinking about all of the above along with the 'bigger questions'. Why am I here? Where do I come from? What is my life purpose? It's a lot to think about – no wonder we get scatterbrained!
The more a man can forget, the greater the number of metamorphoses which his life can undergo, the more he can remember, the more divine his life becomes ~ Soren Kierkegaard
So, what can we do about it? I have found a few things that have helped me feel more grounded and less distracted. Carrying around a couple of crystals seems to help. Even a small piece of clear quartz can help one feel more clear-headed than usual.
If you are in a warm climate, or it just happens to be summer time, try taking off your shoes and walking around in the grass. This will literally 'ground' you and make you feel more centered and balanced. Try going for a walk or even just watering plants – it helps!
It's not just about communing with nature. Sometimes just sitting still for a few minutes can help clear up a case of the 'cobweb brain'. You can still be busy and grounded, but there are ways to keep yourself clear-headed and sane.
About The Author: Ask Pisces is a psychic, empathic, spiritual healer with the ability to bring forth important messages that will help you with any problem ranging from romance to career. She is a certified spiritual response therapist and reiki master. She strives to help every client tap into their own personal power so that they can take control of their lives and spirit. You can get a psychic reading from Ask Pisces at PsychicAccess.com.