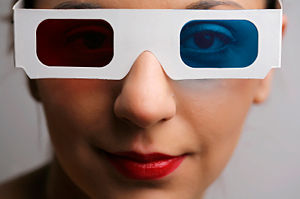 We Greet You, Sons and Daughters of Our Hearts.
We would like you to understand that no matter what is going on in your lives, from challenges to joys to miracles, everything you experience you experience from your own unique and filtered viewpoint.
Every emotion that courses through you is a result of the unique and individual way that you perceive the events and circumstances of the world around you. There is no blame or judgment about how you look at things. Telling you that your perspective is wrong or bad is like telling someone that the quality of their eyesight is a result of their choices. Your eyesight is of course, a result of inherited traits and the magic of genetics. In your physical reality, to be sure, eyesight can be corrected with glasses or contact lenses. So, it is with this analogy that we present to you that you do ultimately have a choice when it comes to shifting or changing your perspective.
There is an objective reality out there, but we view it through the spectacles of our beliefs, attitudes, and values  ~ David G. Myers
You absolutely have a choice when it comes to being willing to shift how you look at things. This ability to look through a different window and see things in a different way can be quite powerful, and is the key to unlocking 'stuck' circumstances and patterns in your relationships.
To give you an example, due to the unique nature of your individual 'lenses', you do not have the ability to 'see' the world exactly the same as another human being. We remind you this is neither good nor bad, it is simply a fact.
What we ask you to take into consideration is the consequence of this fact is that when you believe that another individual's approach to a situation, circumstance, event or pattern is from the same viewpoint and value system you operate from, you are making assumptions that inevitably skew your responses and reactions to that individual's choices. You end up taking their responses personally, as if their intent is to support you or harm you, when in fact, their intent is to move forward appropriately from their own beliefs, values and perspective.
In less complex terms, we are asking that you remember that each individual on your planet has a beautiful, vibrant approach to their own uniquely tailored journey. The key to being willing is to make a determination that you will approach your life and thus your choices, from a home base of love and respect for all life. This is only to make your journey smoother and more joyful. You will make the journey in any event, and always at your own pace. From our perspective, you are all amazing and courageous individuals, and please know that we are always supporting you on this ride.
In Love and Light,
The Nine
Channeled by Krystal from a group of guides who call themselves 'The Nine'

About The Author: Krystal is a Direct Reader, receiving channeled information from guides who call themselves "The Nine." Her clairvoyant, empathic and telepathic abilities to connect with others is not limited to people, but also includes the animal kingdom, as well. She has read for many notable personalities, including Mrs. Zales of Zales jewelry, but keeps her list of celebrities confidential. Her work with channeled writing is so accurate, she has amazed her clients with the depth of detailed information she provides. For a reading with this lovely and compassionate California psychic, go to PsychicAccess.com