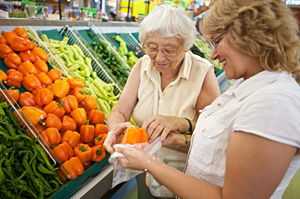 Sheltering yourself from other people's energy is a very difficult thing to do for a psychic. Just going to the supermarket you'll need to armor up against the wicked world of confused souls. This not only applies to me, but to you as well, since all human beings feed off of each other.
But when that moment comes that the older lady looking for the right bell pepper gives off the 'I'm in danger vibe', what are we supposed to do? It is not a good idea to approach this woman as a complete stranger and declare, "I am psychic and have a message for you". As I've learned, it will usually scare them clear across the room.
I am then stuck with the guilt of knowing I could have saved someone from heartache, a business loss, an accident, or whatever the case may be. I could blame others for their closed-mindedness, but I choose to be the 'bigger person'. Everyone has their own path, and if they choose to deny the help of others, that is their choice.
Love and kindness are never wasted. They always make a difference. They bless the one who receives them, and they bless you, the giver ~ Barbara De Angelis
What I'm trying to say is we need to be more open to help from strangers. There are so many people in this world who don't put any trust in others, and I'm hoping we can change that. You can't complain about receiving nothing, if you aren't giving when it's your turn. You can't expect changes to happen, or to receive good karma, if you are not paying it forward.
Something small to you,  can be the greatest thing for someone less fortunate. If you see someone on the bus who looks a little down, ask them if they want to talk about it. Sometimes it's easier to talk to strangers, knowing that you'll never see you again. No judgment. Which brings me back to peoples energy. I will continue to try to advise every now and then. I can't help it!
I find myself praying for others to open their minds, let me show you that there are ways out of your current situation. I don't think it's too much to ask for. So if you happen to be in my hometown, just keep an eye peeled and accept your message.
About The Author: Kimberly was first recognized for her remarkable psychic talents at age eleven, and has since gone on to become a leading spiritual counselor and expert relationship advisor, not only in her Danbury, CT community, but around the globe. For over twenty years, she's utilized her talents in spell casting, palmistry, Tarot reading, and aura and chakra cleansing for many celebrated clients, including Anna Nicole Smith! In her spare time, she volunteers at a homeless shelter and runs a recycling drive for the local children's hospital. Kimberly devotes herself completely to every client and will selflessly devote herself to you at: PsychicAccess.com.