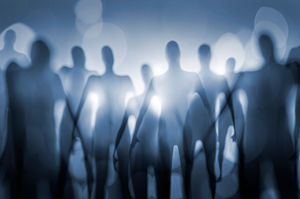 Recently, I have had the honor and privilege of starting the process of helping a spirit named Henry to cross over. Most think this process only takes a few minutes or a day, but it has actually been a pretty long process.
I began to communicate with Henry almost two months ago through Electronic voice phenomenon (EVP). EVP are recordings that are made using modern equipment to capture voices or voice-like sounds that are not audible to the normal human ear. Additionally, I have also been hearing bits and pieces of spirit voices my whole life, and I also received information from Henry through thoughts and feelings which came to me telepathically.
Through these two processes of communication, I have learned many things about Henry. So, he and I are currently in the process of his transition. I do want to point out that with spirit there is no understanding of time like we experience it.  They may feel as if they passed from this earth recently, when in fact it has been many years. For Henry, it has been a 102 years.
But ghosts don't bother me. The day brings bigger things to worry about than flimsy remains of yesterday. No, spooks don't scare me. Gauzy apparitions might prank your psyche or agitate your nightmares, but lacking flesh and blood they are powerless to hurt you – cannot hope to inflict the kind of damage that real, live people do ~ Ellen Hopkins
Just because spirit passes, it does not mean that they do not wish to reach out or to have their voices heard. All it takes is a little patience and a kind ear. They know when you are there for good intent and they will speak to you. I urge those that are interested in communicating with spirit to surround yourself with positive white light and know that the majority of spirits are just interested in communication.
I would not in any way advise anyone to provoke spirit or exploit them, but if you generally want to reach out in a kind manner to a loved one, a friend or just go to a cemetery and try it, eventually, they will communicate with you.
I do feel that spirit knows when certain people are sensitive to them. I am told that certain people who are open to spirit emanate a light that spirits are highly attracted to. This illumination will cause them to come closer to you. I make it a point to always tell spirit that I am not the light in which they seek to cross over, but that I am there and willing to listen or help in any way that I can.
Spirit is always willing to communicate. All we have to do is tune in and listen.

About The Author: Savannah is a North Carolinian who enjoys a close relationship with Spirit, as does her teenage son and even her dog! A third generation psychic born with the gift of the 4 C's (Clairvoyance, Clairsentience, Clairaudience & Claircognizance), she tunes in through Tarot to contact guides and communicate with Spirit. Savannah is well-versed in many metaphysical disciplines and it is her privilege to help clients to find their destiny. If you're interested in claiming your own destiny, you can find Savannah at PsychicAccess.com.