Dangerous Days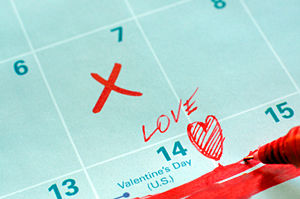 Clients often wonder – why did their partner not want to get together with them on their birthday or any other major celebrations for that matter. The following is a reminder of the differences between the sexes, and the way we view and act on special events.
I would like to cite these major days of 'danger' when asking your love interest or paramour out, because it could significantly damage your relationship if the person doesn't agree to it. I have found that these particular days of expectation are the main triggers for many of my client's dating dilemmas, regardless of their feelings.
The main days to avoid making dates with your loved one in order of volatility are:
Birthdays – please do not expect this special day to be reserved for you. It may be depressing for the person having the birthday and possibly a marker for another loss.
Valentine's Day – men usually avoid this day ceremoniously, both for finding it cheesy and for there being too much anticipation placed on a future through marketing of this day. I usually see a lot of break-ups occurring around this time of year. Uzbekistan asked for a ban on romantic marketing last year preferring instead to laud its poets.
Christmas and religious festivities – this is a case by case basis. It depends on the religion, but I would have to say these are not great for kindling and stoking romance.
New Year's Day – This is the one day one doesn't want to screw up.
Friday and Saturday nights – not officially anyway.
Anniversary of a passing – this can cause anxiety until they know you well enough. Some people may not want the 'support'.
A funeral – you are not that special to be accompanying someone to a grief event, unless you are really formally exclusive.
The sleep-over – this long awaited event is the deal maker or breaker. Look out for immediate snuggling and overnighting as being the more possible hallmark of a long lasting relationship. If it has to be arranged, there could be a problem.
Events that can be noted as casual and acceptable celebrations can be:
Public holidays – such as July 4th or Memorial Day weekend or Thanksgiving. These holidays can be termed as 'excuses for a day off' and can be quite fun in a casual way as everyone is out.
Tuesday and Wednesday evenings – it's very un-desperate to get together on the spur of the moment on these nights.
A friend's wedding – without the bachelor party.
A live event – self-explanatory and anonymous.
Brunch – that's like fitting someone in for a social catch-up and can be quite casual.
I cannot bunch everyone into this category and I see some people are more relaxed than others, though I would venture to say most men feel deeply uncomfortable offering up a certain approximate time of 2 weeks per year that could be deemed as precarious.
I of course am on the venerable search, as are you, for people who don't care too much about these things – with the exception of birthdays being the obvious touchy point for most people. A call usually suffices, a quick check-in to see she or he is well, with a nebulous promise for a visit within three days is good enough for many of us, so no pressure is appreciated, and a present is welcome if possible.
Men need to understand we like to give gifts to everyone, not just them and they would not panic as much when we do. All in all – these simple time constraint courtesies are appreciated by most, regardless of gender.
About The Author: Carmen Miro

Carmen's waking dreams have provided accurate glimpses into the future for celebrities as well as political and international figures. Her non-judgmental, Empathic approach, as well as her unique method of Tarot reading, affords her the reputation as a groundbreaker in her field. This European born Canadian is the first online psychic to promote the idea of Empathy and emotional thought transference, and she has written a great deal on the subject. For a comprehensive Intuitive reading that will transform your life, you can find Carmen at PsychicAccess.com.


One Response to Dangerous Days